The Balipara Reserve Forest Project (BRF) marks the next launch phase of the successful pilot habitat restoration project the Balipara Foundation initiated in Udalguri in 2017. The project's mission was to identify drivers of conservation and development, with a focus on human-centricity to maintain the region's ecological balance in a sustainable fashion. The early successes of the project in Udalguri lent the impetus for scaling this project up in Balipara, in close proximity to our field headquarters at the Eastern Himalayan Botanic Ark.

Subsequently, the Balipara Reserve Forest Project had a plan to replicate the ULM pilot but with added elements aimed at building alternate sources of livelihoods, agro-forestry and the development of universal basic assets among communities. The expected per capita income ofthis restored forest, on maturation of the project (i.e. habitat restoration across 900 hectares) was estimated to be INR 313,297.

In late 2018, The Balipara Reserve Forest Project was launched in partnership with the help of the HT Parekh Foundation, with the vision of restoring 9km2 of degraded land, creating natural assets that would provide direct socio-economic mobility in the communities in the forest fringe areas. With the support of our local partner, MASK, the Balipara Foundation has successfully planted over 5.88 lakhs trees and created over INR 1.08 crores for the communities. In 2020, we tied-up with the Worldview Impact Foundation for digital peer-to-peer funding to support communities as they create natural assets.
Natural Assets
created across
1200 hectares
100% Increase In Community
Incomes
Income
on Forest
Maturation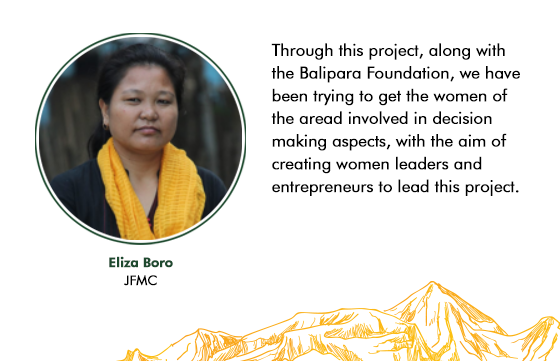 Foot Soldiers of the Forest | Boom Towns
Change Metre: A conservation effort started in 2005 has transformed a swathe of almost barren land into a biodiversity hotspot in the eastern Himalayas, providing jobs to fringe forest communities and raising environmental awareness.
RURAL FUTURE 21 CENTURY TRANSFORMATION