Dr Biswendu Bhattacharjee Moderator
Dr Biswendu Bhattacharjee has been in journalism for the past 23 years. He graduated in Economics, post graduated in Mass Communication and did PhD on growth of vernacular press of Tripura since 1947. He is currently holding the charge of state in-charge of Tripura in India's leading news agency UNI and also working for Times of India. Besides, Dr Bhattacharjee has been associated with the environment movement for the last two decades and has written several books on climate and nature of Tripura including text books of environment science of school students. He is one of the editors of a wide acclaimed publication – Northeast Bio-diversity and Sustainable Economic Development.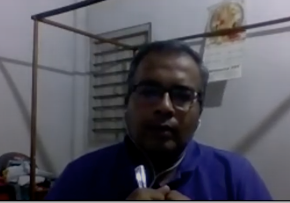 Dr. Samrat Goswami is an Assistant Professor at Dept of Rural Management & Development, Tripura University.  He  completed his graduation from Ramakrishna Mission Vidyamandir, Belurmath in economics and MSc in Economics from Calcutta University. Dr Goswami's PhD is in tank as a source of water in West Bengal, which he completed from Kalyani University. His area of interest is resource economics, natural resource valuation and resource conflict resolution.
At present he is associated with the Department of Rural Studies, Tripura University
Dr. Selim Reza has seventeen years experience in the bamboo sector to implement bamboo cluster based enterprise development in India and East Africa. Dr. Reza started career in the bamboo sector with Tripura Bamboo and Cane Development Centre, a community based organization. He successfully managed bamboo incense sticks cluster funded by Khadi and Village Industries Commission, Government of India and bamboo incense sticks value chains development in India. He also implemented the South Phase-II  bamboo project from 2017 – 2019 in Tanzania, Madagascar and Ethiopia based in INBAR EARO Addis Ababa, Ethiopia. Currently, he is working as Programme Manager with INBAR based in Addis Ababa, Ethiopia to implement bamboo projects in Kenya, Uganda and Ethiopia. He is the recipient of the National Award from the Government of India; Winner IDRC-Scholl Research Fellow; and contributed chapter in 8 books and contributed 30 research papers and articles in reputed scientific journals and popular magazines. 
Dr. Pawan Kaushik is the Regional Director at Centre For Forest-Based Livelihoods & Extension, Tripura. His Research experiences include various aspects of national priorities like – Agroforestry Research and Extension, Demo Village Establishment, Bamboo Propagation, Bamboo Agroforestry Models, Shifting Cultivation, Bamboo Shoot Production Plots, Bamboo Preservation for Green Building, Establishment of Home Herbal Gardens, Documentation of Traditional Knowledge, Vermicomposting Techniques, Broom Grass Cultivation, Patchouli Cultivation, Participatory Management of Natural Resources and SWOT Analysis.
He has been honoured with the Brandis Award, the National Award for Excellence in Forestry by the by the Indian Council of Forestry Research and Education, Govt of India in 2013 and conferred with Elite Samman in 2018 bridging Science to Society with significant achievements.