The Balipara Foundation Awards introduced by the Balipara Foundation in 2013, stands as a platform to reward and encourage the efforts of grassroots conservationist and social entrepreneurs working tirelessly towards preserving the rich biodiversity of the Eastern Himalayas.
Annual Balipara Foundation Award
Dr. Dhan Bahadur. Gurung, Bhutan
The Annual Balipara Foundation Award was conferred to Dr. Dhan Bahadur. Gurung from Bhutan for Ecological Restoration in the region. The Award was presented by renowned television Journalist Bahar Dutt.
An environmental steward, Dr Gurung has made significant impacts towards ecological sustainability. He is an environmental educator whose teachings have inspired a new generation of botanists to dedicate their lives towards socio-economic development of Communities and preservation of the environment. He has been instrumental in building credit worthy programmes such as B.Sc. in Environmental Science and Climate Change and M.Sc. in Natural Resources Management that have helped Institutions through revenue generation to meet capacity and infrastructure facility gaps. 
Major projects headed by Dr. Gurung include DANIDA-Bhutan and NRRHED-CNR. A species curator, he is the founding member of Bhutan Biodiversity Portal and is the first National Professor who studied and published a book on Orchids of Bhutan. His research work on aquatic biodiversity conservation against hydropower development has influenced the Government's policy to maintain at least one major river in the country free of hydropower dams. In the social sector, Dr. Gurung's work on ecotourism has been acknowledged by the government and many community –based ecotourism programs are initiated in his study sites that empower the local communities' socio-economically.
Sagir Ahmed, Assam, India
The Naturenomics™ Award was conferred to Sagir Ahmed for his sustainable use of waste coconut shells in Assam. The Award was presented by Naoko Ghosh, Yoga & Forest Walk Expert
Transforming waste coconut shells into intricate art pieces of jewelry and home décor, Sagir Ahmed is a Green Entrepreneur and owner of Dazzle Craft, who has used innovation & creativity to recycle and reuse a waste product. His craft has helped raise awareness on the valuable use of coconut shells of Assam and is a source of livelihood for self-help women groups. These women who would earlier burn or throw these coconut shells now collect them as raw material for his business in exchange for a steady source of income. 
His eco-friendly craft pieces are also sought after by many e-commerce website, retailers and wholesalers who buy these products & sell them through their sales platforms. The products are bio-degradable and hence non-hazardous and environment friendly. Sagir Ahmed aims to utilize coconut shell as a valuable currency and for his contribution to nature, we award him today.
The Green Journalist Award was conferred to Amit Patro from Sikkim for reforming the role of Publications as a tool for raising awareness on socio-economic empowerment of the Sikkimese Society & environmental causes in Sikkim. The Award was presented by Priyanka Bista, Design Director and Co-Founder of the KTK-BELT Project.
Amit Patro, an indomitable Journalist has been the pioneer of the culture of daily newspapers in Sikkim from 2003. Through the platform of Sikkim Express, he continues to bring to light several environmental causes, local stories, grievances of the local people and recognize local heroes in the pursuit of socio-economic empowerment of these societies and communities. His contribution towards the growth of media in Sikkim has been enormous. 
An active member of the Lions Club of Gangtok, he has effectively raised funds for the medical treatment of several poor and underprivileged individuals. Conferred with Sikkim Sewa Samman, the highest civilian award, by the Sikkim Government for his contributions to advancement of media in Sikkim, he continues to report relentlessly on the environmental issues of Sikkim and highlighting NGOs that help preserve the environment. To this effect, he has dedicated pages to Environment storytelling in Sikkim Express.
Eastern Himalayan Conservation Award
Joint Forest Management Committee of Bhairabkhunda, Assam
The Eastern Himalayan Conservation Award goes to Joint Forest Management Committee of Bhairabkhunda for their afforestation work in the conflict & violence infested area of Udalguri resulting in more forest cover and shelter to the Wildlife in the region. The Award was presented by Krishan Aggarwal from Vivanta by Taj, Guwahati
Amid the gloom of large scale deforestation in the Udalguri region of Assam, 6 villages on the India-Bhutan border at Bhairabkhunda have come together to regenerate a stretch of barren sandy forest land. This Joint Community Conservation Initiative under the Committee name "Sonai Rupa" has regenerated 500 hectares of deforested land to a picturesque man-made forest that was planted with 10 lakhs of sapling and now serves as a shelter to wild elephants, deers, monkeys, leopards, bears along with various species of flora. A small river with several canals -a few of those man-made runs throughout the forest, providing replenishment for the green cover. 
Nature loving Committee members believe that with some support from the Bodoland Territorial Council, the area can be developed as an ideal eco- tourism hub. The restoration has led to conservation of much needed forest products for local use, food and medicine, meets the increasing demand for ecosystem services and generates livelihoods for the Communities.
Dr. Sourabh Deb, Tripura, India
The Green Guru Award goes to Dr. Sourabh Deb of Tripura University for inspiring a new generation of environmental stewards through education for sustainability and compassion for Nature. The Award was presented by Elsa Hart, an American Novelist and Climate Change Research Specialist in China & Nepal
Dr. Sourabh Deb is a Professor at the Tripura University, arguably the only University in India where Forestry and Biodiversity is taught as a subject in Masters programme. Being a teacher of this discipline, he guides his students, who are mostly from rural communities, on the value of solution based forestry and biodiversity research in tune with the emerging global concerns on the degradation of our Nature Capital and our Natural Assets. With a special focus towards sensitizing his students towards nature and developing a genuine love and appreciation for the natural world, he is moulding future Green leaders to contribute to community and biodiversity conservation. 
A firm believer that research based teaching approach should be related to the economic upliftment of the students, the research outcome of his work is ultimately reaching to the users' like, forest dwellers, farmers/orchardists, State Forest and other allied departments and different voluntary organization.
Young Naturalist Award was conferred to Hiskiya Sangma who has leveraged technology & Storytelling to raise awareness on Wildlife Conservation & to highlight environmental stewards. The Award was presented by Khun Rochana Dardaranada, Thailand's first speech pathologist
Hisikiya Sangma was a part of Ecosystem India and involved in Pigmy Hog Conservation Program. His videos helped the project authority to record the behaviour of this endangered animal. Besides this he has completed 2 documentaries "Life of a forest guard" and "Protected Area Community" for the State Forest Department, Assam. 
Currently associated with the NGO, MASK, he is playing an active role in natural resource management program in association with community. He is also involved in awareness programme conducted by MASK on forest conservation in rural areas.
Food for the Future Award
Farmers of Omita Gaon, Krishna Bora, Assam, India
The Food for the Future Award was conferred to Krishna Boro of Omita Gaon (Assam's papaya village) where under his initiative Community based farming are changing rural livelihoods. The Award was presented by renowned botanist Scott McMahan from the Atlanta Botanical Garden.
What began as an initiative by one man in the village, 37-year-old Krishna Boro is yielding economic returns for other farmers in up to 3 villages, who are replicating the same model of sustainable farming to grow Papayas in the village. Farmers of the Bhogdabari village near Boko in Assam are transforming barren 61 bighas of land through sustainable farming into organic Papaya fields. The farmers are now being linked to creating a Farmer Producer Organization, an important initiative undertaken by the Ministry of Agriculture to promote and strengthen member-based institutions of farmers, who will provide the necessary skill building and training, raw material and machinery and financial advice. With the yield and consequent economic return, the farmers have a sustainable livelihood while equally benefiting the environment.
Bhutan Glory Eco Club (Tsuseki & Limthure), Bhutan
The Nature Conservancy Award was conferred to Bhutan Glory Eco Club (Tsuseki & Limthure) for shifting the mindset of the youth of Nagaland through awareness and education, from a hunting culture to connecting to Nature and preserving our natural heritage. The Award was presented by Sarala Khailing, Regional Director at Ashoka Trust for Research in Ecology and the Environment
In the remote areas of NorthEast, in the Fakim village, hunting of Wildlife & Jhum Cultivation practice is causing rapid deforestation and degradation of the environment. In pursuit of inculcating pride in the youth of Nagaland towards the Natural heritage and the value of conservation for a more sustainable and equitable future for themselves, Tsuseki and Limthure started the Bhutan Glory Eco Club to include the youth in conservation with the mission "Shoot, but with camera, not gun". Their work has helped bring more focus to Fakim Wildlife Sanctuary which boasts of the endemic butterfly species – Bhutan Glory. 
Along with community mobilization, awareness education and helping the forest department, they are expanding their domain to livelihood generation through horticulture and animal husbandry. They have played a very important role in all major activities of the forest department like Complete LED Village Program where Fakim Village became the first complete LED village in Nagaland. As local role models and Grassroots Leaders, Tsuseki and Limthure continue to involve more and more youth in conservation through their persistence and commitment.
Forest Guards & Rangers Award
Forest Ranger Khagen Bhuyan, Assam, India
The first recipient of the Rangers & Guards of the Eastern Himalayas was Forest Ranger Khagen Bhuyan from Assam for his valuable contribution towards synergizing community conservation and Wildlife conservation. The Award was presented by Prerna Singh Bindra, who has been at the forefront of the battle to conserve India's wildlife for over a decade Forest Ranger Khagen Bhuyan is a man of extraordinary resilience. A Grassroots Leader, he has worked relentlessly to motivate fringe forest communities to desist from illegal exploitation of forest products, leading to a decrease in poaching incidents and has participated in numerous plantation drives to improve the Karbi foothills habitat. He has been actively involved in civil society efforts to improve the socio-economic condition of the area by helping the Community in conflict management and lending support for building social mobility assets for them, thereby empowering them to protect the Elephants. Khagen Bhuyan is also the man behind the first conviction in the region of poachers caught red-handed for illegal smuggling of forest products.
Forest Guards & Rangers Award
Forest Ranger, Chakrapani Rai
Our second Winner was Forest Ranger Chakrapani Rai from Assam for his resolve to wipe out poachers from the region in order to protect the Natural Heritage. The Award was presented by Gen (Rtd.) Arun Sahni Forest Ranger Chakrapani is a Range Officer in Ranjiv Gandhi Orang National Park at Orang. Rajiv Gandhi Orang National Park is located in a strategic location, encircled by a hostile immigrant population. The National Park is rich with biodiversity- over 30 Bengal Tigers and about 100 rhinos. Mr Rai has adopted a carrot and stick policy in handling the people, supports good people of the fringe villages and dominates the outlaws and poachers. He has established a good network of information and strikes with precision. A good ranger equivalent to a 1000 activists and a true leader, he has fearlessly led anti-poaching operations and killed 8 poachers, arrested 38 and recovered 14 weapons. A true hero he also involves himself in activities that enable socio-economic development of forest fringe Communities.
Forest Guards & Rangers Award
Forest Guard Zakhuma Don, Mizoram
Our third recipient of The Forest Rangers and Guards of the Eastern Himalayas was Forest Guard Zakhuma Don from Mizoram for his relentless anti-poaching patrols and for leveraging technology and innovation to create a rich repository of natural history in audio-visual. The Award was presented by S.K. Dutta A forest guard with the Mizoram Forest Department in the Dampa Tiger Reserve, Zakhuma is an extraordinary and quiet grassroots conservationist. Working in the dense rainforests and bamboo stands of the northeast, he spends weeks on anti-poaching patrols, whilst coordinating camera-trapping exercises for the department and diligently documenting the exquisite but little-known biodiversity and cultural heritage of the region. In 2015, he was selected as a fellow by the Green Hub and here, learnt the basics of video documentation and editing. Despite owning no personal equipment, and having very limited access to editing softwares and the internet, Zakhuma has created a breathtaking repository of natural history images. His spectacular portfolio of images is used by the department for conservation outreach, awareness and action.
Forest Guards & Rangers Award
Forest Guard Jampel Lhendup, Bhutan
The fourth Ranger & Guards of the Eastern Himalayas goes to Forest Guard Jampel Lhendup from Bhutan for effectively using Technology to deepen Conservation Impacts. The Award was presented by Arita Kashyap, Eco-Fashion Designer, India Jampel Lhendup is a forester by profession but he has taken special interest in the application of Spatial Monitoring and Reporting Tools (SMART) in wildlife management. Through his effort, Royal Manas National Park has become the first park in Bhutan to implement SMART approach of patrolling in 2013. The adoption of the software has led to cost efficiency and project support from international donors for capacity building of the field staff. Today, the Department of forests and Park Services has become the first department to use real time data logger smart phones to collect data.
Forest Guards & Rangers Award
Forest Guard Santi Ram Chetri, Assam, India
The fifth Ranger & Guards of the Eastern Himalayas goes to Forest Guard Santiram Chetri for his long-standing beyond the call of duty service to protect the inhabitants of Kaziranga National Park. The Award was presented by Robbie Hart, Assistant Curator, Atlanta Botanic Garden, USA A Forest Guard at the Kaziranga National Park, Santiram Chetri is a long-standing frontline officer who has dedicatedly protected the inhabitants of the World Heritage Site. Due to his courage and self-networking many definite Rhino poaching attempts by the miscreants could be averted. His field knowledge in terms of animal behaviours and its movements is unparalleled. Calm and composed in the gravest of situations, Chetri has been instrumental in guiding his team in the right direction for conservation of habitats and suggest measures that help conserve and maintain the rich flora and fauna of the National Park.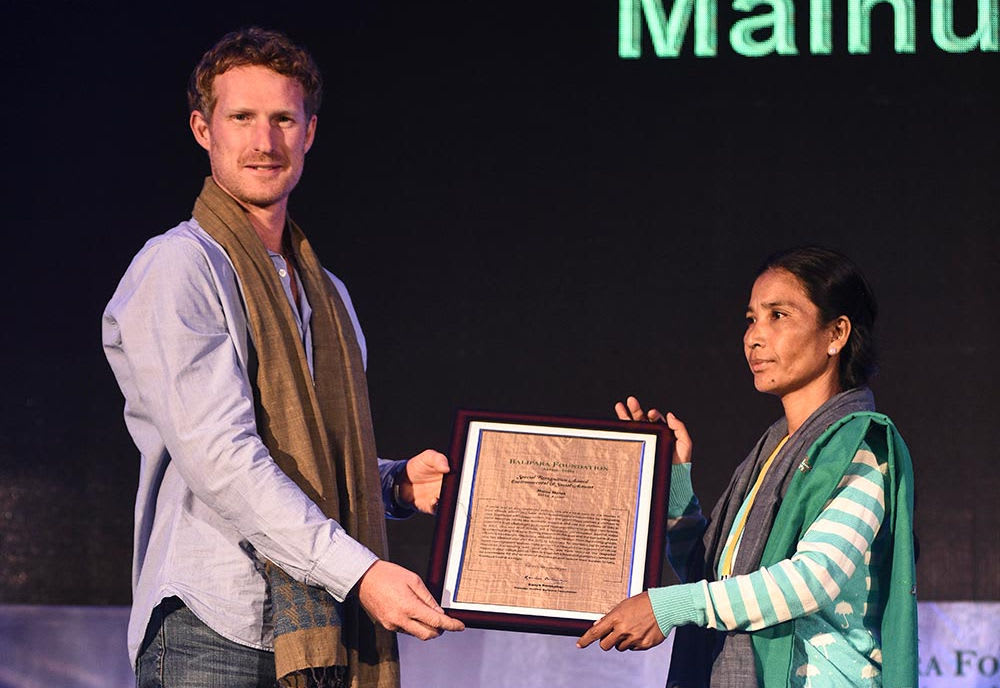 Special Recognition - Environmental & Social Activist
The Special Recognition Award – Environmental & Social Activist was conferred to Mainu Marak from Sonitpur, Assam for socio-economic upliftment of rural women in her village. The Award was presented by Prof. Peter Mortimer at the Kunming Institute of Botany, a specialist in soil ecology
A social and environmental activist, Mainu Marak is a local hero for the women in her village, who she has socio-economically empowered by integrating their livelihood with conservation. She has given these women a platform to voice sensitive issues like domestic violence and use the platform of SHG to overcome their challenges and create local regulations to protect their forests. 
In 2007, Mainu and her Group led a resistance conversation against major boulder logging and sand mining interests in the area and the outcome of their efforts led to ban on tree felling and non-intervention from the mining groups. This has allowed Mainu and the SHG to advocate for women's rights related to forest management and promote women's access and management of natural resources. Continuing with her efforts, she aims to establish a firewood plantation near her village which will be convenient for the women of the village and reduce their burden to carry firewood from the jungle
Special Recognition Award - Pioneer of Long Distance River Cruising in India
Assam Bengal Navigation, Jahnabi Phookan & Aashish Phookan
The Special Recognition Award – Pioneers of Long Distance River Cruising in India was conferred to Assam Bengal Navigation Jahnabi Phookan & Ashish Phookan for pioneering long-distance river cruises in India. The Award was presented by Prof. Koyuu Furusawa, Kokugakuin University, Japan.
In 2003 under the guidance of Jahnabi & Ashish Phookan, Assam Bengal Navigation started long-distance river cruises in India with the unique cruises on the Brahmaputra river in Assam. Later in 2007, Assam Bengal Navigation were also the first to run cruises on the Ganges river. They have created a wonderful way to explore the remote regions of Assam and Bengal and use a very undermined means of transportation.
Former Cabinet Minister, Govt. of Manipur, Haokholet Kipgen, Manipur
The Lifetime Service Award was conferred to Former Cabinet Minister, Govt. of Manipur, Haokholet Kipgen for embodying the core values of sustainable development through Foundation for Environment and Economic Development Services. The Award was presented by His Excellency President of Central Tibetan Administration, Dr. Lobsang Sangay Under the leadership of Haokholet Kipgen, FEEDS has adopted many innovative and unique community inclusive projects that make the best use of our natural resources and bring into complementary relationships the needs of economic development with our living environment. The centre is of relevance not only to the Himalayan region and India but the world as a whole for its contribution towards development of Rural upland Agro-forestry, family base Tea Plantation, Commercial flower cultivation, conservation of orchids and extension service. The Center is the first in India to grow Emu in cold regions and the first in introducing Emu into the North East. A major focus area for the organization is to impart education and facilitate rural livelihoods, skill training and capacity building for the millennials. In order to cope up with the prevailing deteriorating environment and economic conditions, FEEDS has introduced Silvi-Agri-Horticulture plantation to preserve ecology and improve the economy of the region.