The Balipara Foundation Awards introduced by the Balipara Foundation in 2013, stands as a platform to reward and encourage the efforts of grassroots conservationist and social entrepreneurs working tirelessly towards preserving the rich biodiversity of the Eastern Himalayas.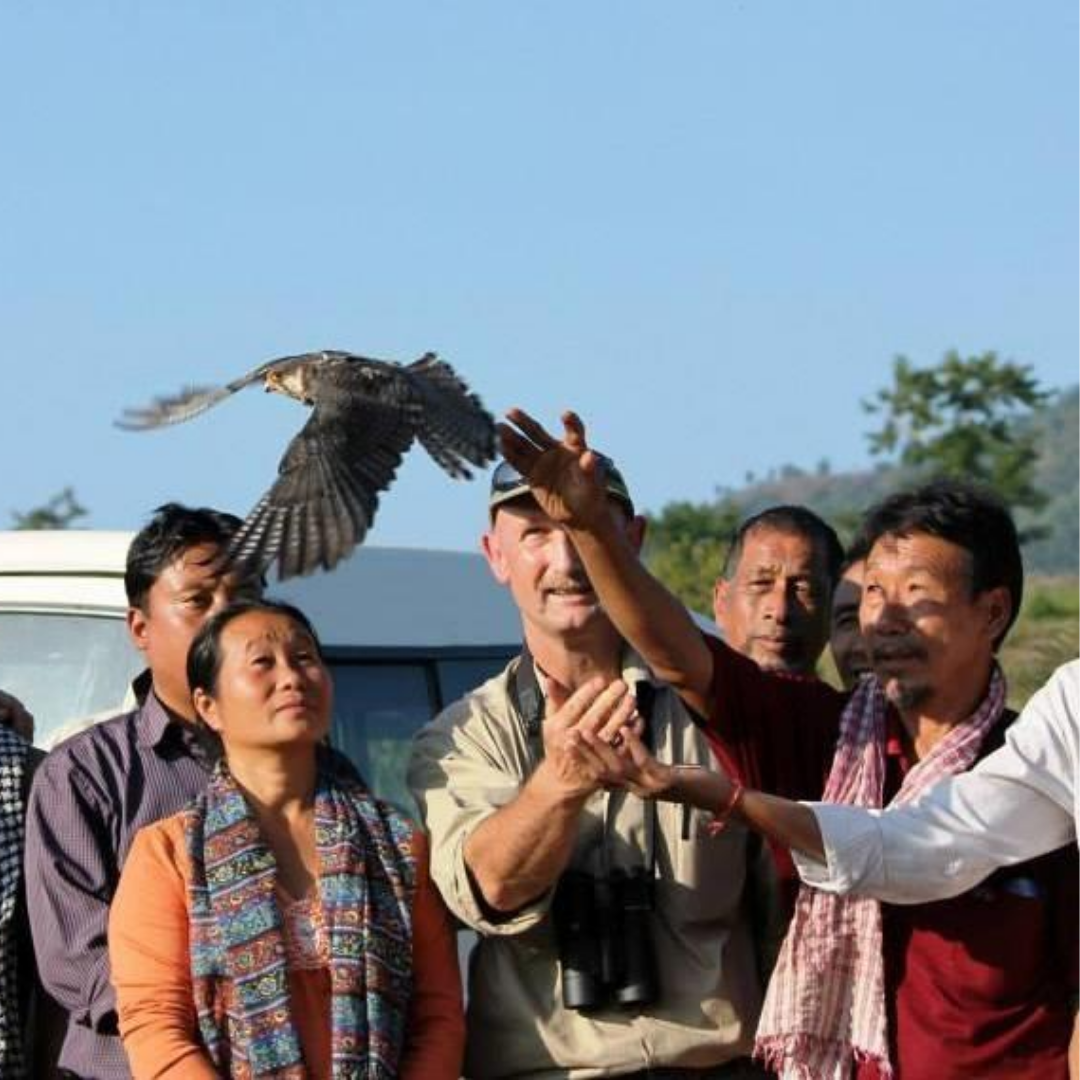 Pangti Village Community and Forest Department of Nagaland
The Pangti Village Community and Forest Department of Nagaland played a major role in the conservation of the Amur Falcon (Falco amurensis) after the bird had come in news due to rampant and excessive poaching and hunting in Nagaland, during its migratory passing from the North-eastern state of India. The village council consists of villagers oriented towards wildlife conservation in Nagaland. The Village Community, along with the forest department of Nagaland and local NGOs were involved in the planning, implementation, monitoring and assessment outreach activities on the importance of saving the Amur Falcons from being poached and hunted rampantly. The Pangti Village with the neighboring villages Sunfro and Ashaa, all of which are important villages in terms of the falcon's migratory path geographically, were crucial in making the ban in hunting of the Amur Falcon successful in Nagaland. The Pangti Council was involved in the distribution of literature, posters, bookmarks, hoardings to generate widespread awareness about the Amur Falcon. Flexi banners depicting slogans for Amur conservation and about the punitive measures as well were put up in public places. The Nagaland Forest Department also made use of local and national media, to publicize the mass hunting of amur falcons as well as to increase awareness regarding the falcon. Balipara Foundation awarded the Pangti Village Community and the Forest Department of Nagaland for their collaborative work on making on-ground conservation of the Amur Falcon work. Social Impact: Seminars and outreach programs were organized by the Pangti team, to raise awareness regarding the conservation of wildlife, especially to save the Amur Falcons. The outreach activities attempted to extend to different levels of stakeholders, from the villagers to the governing authorities and also including the police department. Religious institutions like different temples and churches were also involved in the program to increase awareness for the falcons. The awareness programs were also conducted in schools of Sungro, Sanisand Englan ranges, covering more than 15 villages in Nagaland. A marathon was also organized to raise awareness regarding the downfall in numbers of the migratory falcon. The relevance of these outreach programs was to make the local community aware regarding the Amur Falcon who came in spectacular numbers to roost in and around Sungro Range during the bird's migratory path from Eastern Asia to Southern Africa. The Pangti team also created alternative livelihood opportunities for the villagers depending on hunting and natural resource extraction from the forests. Economic Impact: The backstory of mass killings of the falcons were driven by insufficient livelihood opportunities for the locals who depended on agriculture. The locals also had to face threats to their livelihood from crop predation by wild animals and also by insufficient pest control, all of which left some of the people with no choice but to hunt wild animals, including falcons. The Pangti Council took major efforts in convincing the local community members to kill Amur Falcons. And it also made efforts to involve the locals in conservation work related to nature tourism, so that they deviated from traditional means of livelihood that were prone to degrade forests and wildlife. Ecological Impact: MoUs were signed between the Pangti Council, Conservation NGOs and the Forest Department of Nagaland for the conservation of Amur Falcons. The Pangti team, along with the Forest Department of Nagaland, helped set up a team of monitoring villagers and forest personnel who would be stationed at the roosting sites and market areas to patrol and prevent the hunting/trading of the Amur Falcons. The churches in Nagaland, including the Nagaland Baptist Church Council, were also involved to spread awareness by organizing the 'Pray for the Amur Falcon Campaign', reaching out to about 1200 churches. The awareness programs also included eco-club activities, village level seminars, wildlife movie shows, etc. The Pangti team also helped in the imposing of ban on the use of weapons, felling of falcon roosting sites, burning of forests, fishing with explosives and poison, chemical farming, etc. The Wildlife Institute of India (Dehradun) jointly collaborated with the Pangti Council to satellite tag a few Amur Falcons to study its migratory route from Asia to Africa, for which ex-hunters turned fishermen from neighboring villages were involved in execution of the fieldwork. The study was an initiative of the Wildlife Institute of India (WII) Dehradun, Raptors MoU of the Convention on Migratory Species (CMS), MME (Birdlife International) Hungary and the Department of Forest, Ecology, Environment and Wildlife Nagaland. 28 birds were ringed altogether and from among these, 3 individuals were selected and PTT tagged-one male named "Naga" and two females named "Wokha" and "Pangti" after the State, District and Village respectively. These birds were all tagged and released on 7th November, 2013. The male Amur "Naga" reached South Africa first on 9th January, 2014, while the two females took their own time and reached later on. Since then, "Naga" and "Pangti" have taken their return journey and are now in Mongolia while there's no more signal from "Wokha" after reaching South Africa. Ever since the awareness campaign was begun by the Pangti Village Community, reported killings and hunting incidents of Amur Falcons have marginally been low, showing a promising future for falcons in Nagaland. Awards and Recognition: 2014 – Recipient of Royal Bank of Scotland (RBS) Earth Heroes Award, under the 'Save the Species' category. 2014 – Forest Protection Force – Recipient of the Governor's Commendation Certificate for the Amur Falcon Conservation Protection and Conservation
Wildlife Conservation Award
Back in 1995, Aparajita arrived at Pakke Tiger Reserve, to study the impact of logging on arboreal creatures like squirrels and primates. Before which Aparajita was working on wildlife projects that involved tracking Indian Wolves in Gujarat and researching on Indian Giant Squirrels in Madhya Pradesh. Aparajita also radio-tagged and tracked rainforest hornbills in Thailand in 1999, during which she learnt about canopy climbing skills. Today, a Wildlife Biologist, Senior Scientist and Board Member with Nature Conservation Foundation and member of the National Tiger Conservation Authority, Aparajita has a long list of accomplishments on her back, involving community development and safeguarding wildlife, especially hornbill conservation with an experience spanning for more than 20 years. Aparajita has worked on various ecological aspects, especially plant-animal interactions in rainforests, understanding anthropogenic effects on wildlife and engaging with tribal communities for conservation. Aparajita completed her doctoral work on the importance of the role of hornbills as seed dispersers in Arunachal Pradesh. A few of the notable projects that Aparajita has initiated or been a part of are the Hornbill Nest Adoption Program, Hornbill Seed Dispersal and Conservation Program, Hornbill Survey across North-east India and the Rural Energy and Conservation Program. Aparajita was also the recipient of the Green Oscar Award – Whitley Fund for Nature in 2013, for which she received a prize money of 30 lakh rupees, and she is utilizing the funds to identify and protect hornbill nests across India. According the Aparjita, the driving force being her efforts towards wildlife conservation and community development are the Lisu people itself, who have inhabited and lived in the lands long before any 'National Park' or 'Tiger Reserve' was created. Social Impact: Aparajita has relentlessly worked along with the Lisu tribe in facing social and conservation-related challenges in and around Namdapha National Park, Arunachal Pradesh. She has been involved in setting up schools for the tribal children, building river embankments to stop erosion of agricultural land, and also provided solar lamps to local community members so that they are less dependent on batteries and kerosene. Aparajita and her team have also helped provide tribal community members with fuel-efficient stoves and water heating devices. Aparajita has facilitated the tribal community with free healthcare and trained a few tribal community members to carry out primary medical procedures, to combat the problem of diseases like malaria that are widespread among Lisu people and other tribe members in North-east India. Aparajita has also helped in securing funding for teachers and for providing school supplies to the schools for tribal children that she helped set up. She has also co-authored more than two books for children on hornbills and rainforests. And has also helped create educational material to promote Indian Wildlife among young readers. Economic Impact: Aparajita is involved in the marketing of local handicrafts made by tribal community members. And along with the Lisu tribe members, she is also nature tourism initiatives for creating livelihood opportunities towards the local community. Ecological Impact: Aparajita has worked towards the conservation of hornbills in North-east India. She has created community and social science-based conservation models to improve the population of hornbills in North-east India. Aparajita has worked extensively with the Nyishi and Lisu tribes of Arunachal Pradesh and the State Forest Department to initiate the community-based programme of adopting and conserving hornbills of North-east India, particularly in Namdapha and Pakke Tiger Reserve. Her hornbill nest adoption program and other wildlife-based projects are being financially supported by National Geographic Society, the Disney Wildlife Conservation Fund, Ford Foundation and from urban citizens who act as foster parents by adopting hornbill nests. Aparajita was part of the team that discovered the Leaf Deer (Muntiacus putaoensis) in Arunachal Pradesh back in 2002. She was also part of the team that discovered the Arunachal Macaque (Macaca munzala), a new primate species that was discovered from western Arunachal Pradesh in 2005. Aparajita also studied foraging patterns of sympatric hornbills in the non-breeding season in Arunachal Pradesh. Awards and Recognition: 2013 – Recipient of Whitley Fund for Nature Award Grant (United Kingdom) 2010 – Emerging Explorer Award, National Geographic Society (USA) 2009 – Humanity Award, Wings World Quest – Women of Discovery (New York) 2004 – Sanctuary-ABN Amro Wildlife Service Award (Mumbai) 2004 – Recipient of Carl Zeiss Wildlife Conservation Award (New Delhi).
Bano Haralu is a retired and revolutionary television journalist with an experience of more than two decades in Doordarshan and NDTV. She then began her pursuit to promote wildlife conservation in and around India. She has been involved in working towards conservation in Nagaland since 2010. And she has been instrumental in raising awareness for the Amur Falcons that were being hunted at an alarming rate by the local community in the state of Nagaland. The falcon would gather in staggering numbers during its migratory route stopover in the northeastern state, while flying towards Africa from Eastern Asia. She was one of the first few people to document the mass-hunting issue of Amur Falcons besides Ramki Sreenivasan (Conservation India) and Shashank Dalvi (Centre for Wildlife Studies). The organization, Nagaland Wildlife and Biodiversity Conservation Trust (NWBCT), which she started and is also the managing trustee, has been involved in Amur Falcon Conservation, Conservation Education, Birdguide Training and also in carrying out Biodiversity Surveys in Nagaland. For her contribution to the field of wildlife conservation, Bano was awarded the Young Entrepreneur Award by Balipara Foundation in 2014. Social Impact: She has supported local communities in getting livelihood opportunities in Nagaland by promoting bird guide training programs through NWBCT. Economic Impact: Bano's contribution to wildlife conservation and local communities has not had a significant impact in an economic stance, but it has otherwise brought about positive changes to the lives of the people in Nagaland. Ecological Impact: Bano initiated and spearheaded the Avian and Wildlife survey for the government, which was later published as the 'Birds of Nagaland'. She also formed the Nagaland Wildlife Biodiversity Conservation Trust (NWBCT) in 2013 and serves as its managing trustee. Her organization, NWBCT has also helped carry out conservation education programmes in Nagaland. Awards and Recognition: 2001 – Recipient of Chameli Devi Jain Award 2014 – Felicitated by the Pranabananda Women's College (PWC), Dimapur in recognition of her outstanding contribution to the field of journalism and environmental conservation 2016 – Recipient of Stree Udyamita Samman (Women Achievers Award) for her contribution towards Journalism.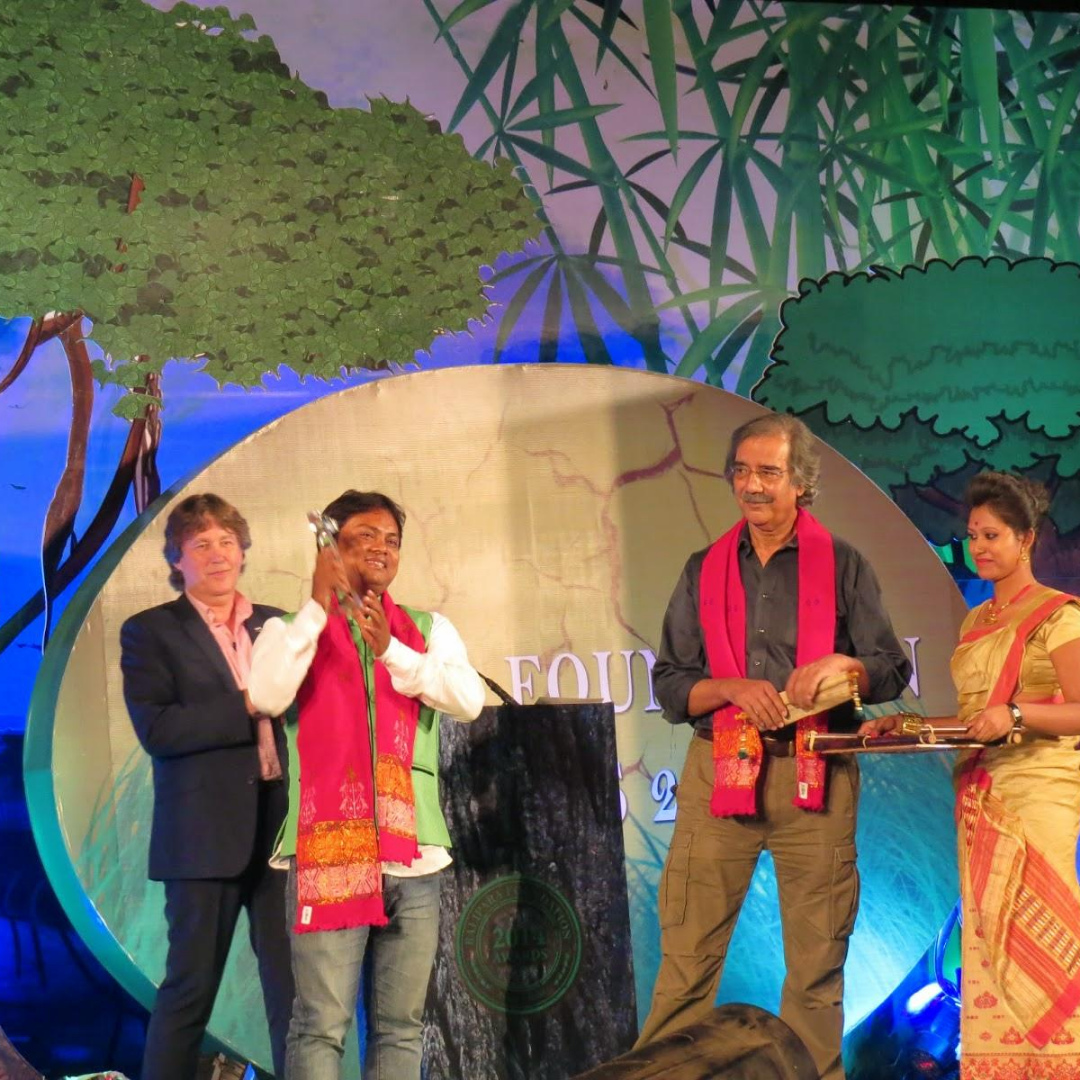 Conservation Through Innovation Award
Binod 'Dulu' Bora is a key member of the Green Guards Nature Organization in Assam and he has dedicated his life towards wildlife conservation and rescue of wild animals from illegal trade. Bora specializes on human-wildlife conflict matters in Assam, especially ones involving Asian elephant conflict mitigation and managing of straying leopards. His organization works on mitigation plans to deal with human and elephant deaths caused during interactions in the Nagaon-Karbi Anglong landscape. Bora aims to create sensitization among local communities towards wildlife and has worked for more than 15 years in this field. In 2014, he was awarded the Conservation through Innovation Award by Balipara Foundation for his dedicated contribution. Social Impact: Bora takes initiative and interest in interactions between schools, teachers and students to talk about conservation issues, importance of biodiversity and on how to contribute towards wildlife. He also undertook a project entitled 'Sensitization of Fringe Forest Communities along the Nagaon-Karbi Anglong Border'. He organizes camps for local community members to interact and discuss elephants and wildlife so that they understand the biological importance of the landscape. He has organized wildlife awareness oriented photo exhibitions for educational institutions. And he has helped facilitate blankets and other resources to local communities that stay in forest fringes of Karbi Anglong. Economic Impact: Binod's work does not directly have economic impacts to the community and the Karbi-Anglong landscape Ecological Impact: Bora assists his team in carrying out alternative livelihood programs and rehabilitating ex-poachers, snake charmers and other local community members who used to rely on exploiting nature for a living. He is also a part of several wildlife awareness programs in and around the Karbi-Anglong Landscape. He leads the survey team that identifies and documents the biodiversity-rich areas in Assam and Northeast India. Bora also participated in the 'Street play for Conservation of Greater Adjutants in 2013', organized by Aaranyak NGO. He was also a part of the team that carried out plantation of 'Bhim kol' banana (local variant of Banana) and jackfruit for elephants in the forests and foothills of Karbi in barren areas or places affected by jhum cultivation. The collection of jackfruit seeds and banana stumps were done with the involvement and contribution of local community members of the landscape. Bora headed an initiative to put up informative signboards of important fauna to raise awareness in the Karbi-Anglong landscape which was supported by the TINA grant. Bora has also been involved in heading multiple rescue operations of wild animals that have been stranded in human settlements. Awards and Achievements: 2014 – Recipient of Sanctuary Wildlife Service Award Recipient of Tina Abraham-Sanctuary Initiative for Nature Action (TINA) Grant Ecological Restoration AWARD RECIPIENT – 2014 Tana Tapi, Takum Nabum and the Ghora Aabhe Society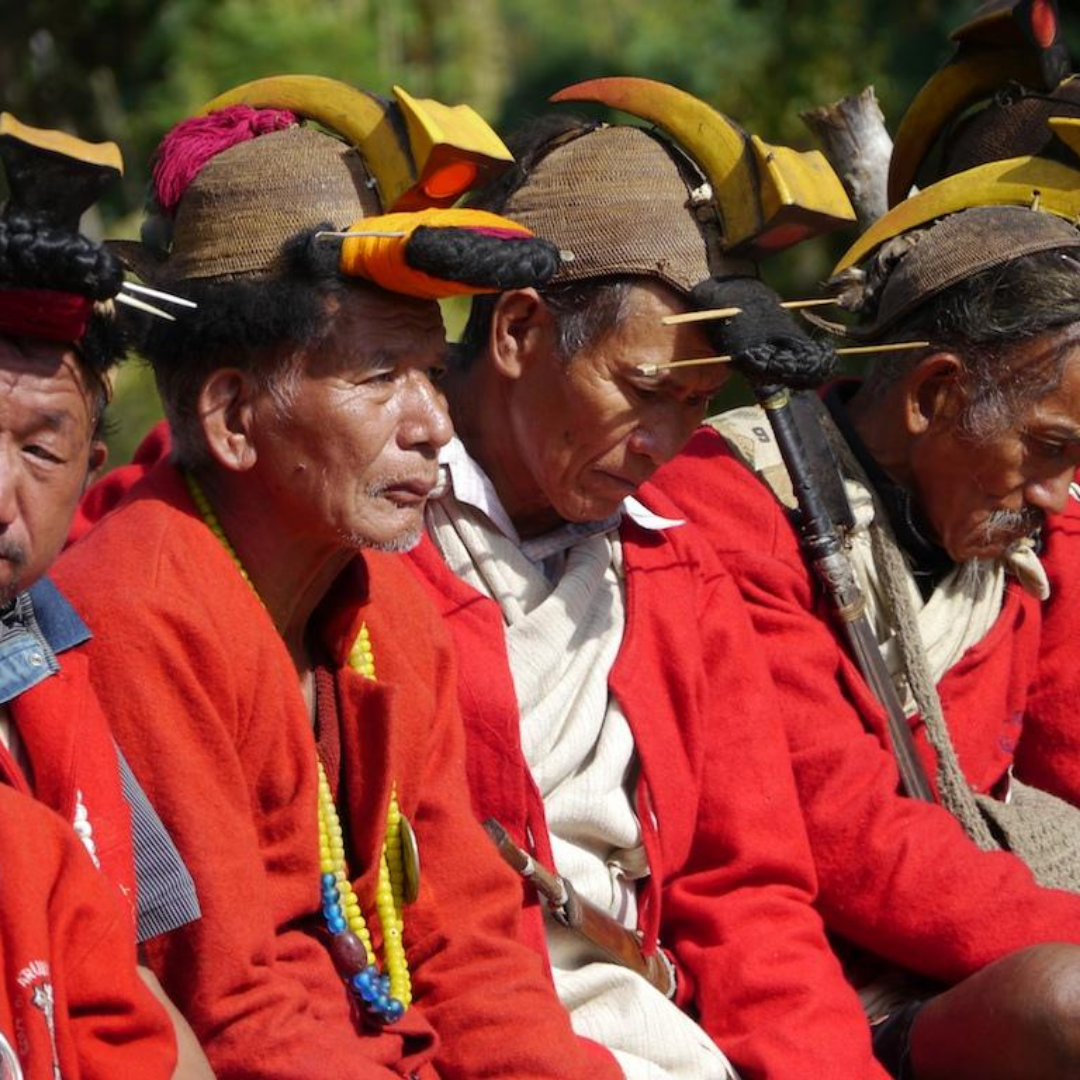 Ecological Restoration Award
Tana Tapi, Takum Nabum and The Ghora Aabhe Society
The Ghora Aabhe Society consists of reformed hunters and conservationists living in and around Pakke Tiger Reserve, who have become the guardians of wildlife in this landscape. Situated in the state of Arunachal Pradesh, members of the society are known for carrying out ground-level conservation work with communities and governing agencies towards the awareness and conservation of biodiversity. Two of the key people from the society are Tana Tapi and Takum Nabum.
Tana Tapi is the Divisional Forest Officer (DFO) of Pakke Tiger Reserve. With his leadership, Tana and his team work on setting up anti-poaching infrastructure and carrying out operations. Starting off with seldom 25 forest department personnel in 2005, Pakke National Park was completely understaffed. This was also the time when Tana joined the forest department as DFO. With assistance from the forest department authorities, the strength of forest personnel grew to 140 individuals and as many as 24 anti-poaching strike squads were recruited by 2007. The department was also upgraded with facilities during Tana's tenure. The positive impact of Tana's work was reflected with higher documented densities of tigers in Pakke National Park. And as the DFO of Pakke, Tana carried out multiple armed operations against poacher gangs. Tana then got involved with Takum Nabum and the Ghore Aabhe Society seeking an opportunity to promote community conservation in Pakke. He also tried to remove the stigma of difference between locals and forest department personnel by providing livelihood opportunities to the rural youth to be 'forest watchers' of Pakke. He was also able to convince certain tribal villages to donate a piece of land for the forest department to set up anti-poaching camps.
Takum Nabum heads the Ghore Aabhe Society and works towards promoting conservation in and around Pakke Tiger Reserve. He was also one of the key individuals who pushed forward the Hornbill Nest Adoption Program in 2011. Takum, along with the Nishi tribal community oversees the hornbill nest monitoring program in and around Pakke Tiger Reserve. The collaborative team constituted women self-help groups and they also played a role of being the informants for the Pakke Forest Department. For their diversified work, as a team, to help and conserve wildlife in Northeast India, Balipara Foundation awarded them the Ecological Restoration Award in 2014.
Social Impact: The Ghore Aabhe Society helped in the formation and capacity building of the women self-help group in Pakke. The society also provided mosquito nets to the Adhivasi tribe of remote villages. The society also facilitated villagers who have faced crop damage by wild animals, with relief camps and compensation for losses. They also regularly organize medical and veterinary camps for neighboring villages. The society was also involved in helping the people affected by flash floods and providing them with relief resources. The society also carried out training and awareness programmes on ethnic medicinal plants. The society organized the Pakke Nameri Peace Carnival to create awareness in Wildlife Conservation. And it also involved incapacity building of schools, by providing them with blackboards and other study materials in the Seijosa Area. Lately, the society has been giving handloom and handicraft-based communitylivelihood training for the locals.
Economic Impact: The Gohre Aabhe Society helped develop the Eco-Camp at Seijosa, Arunachal Pradesh, which helped provide income and employment opportunities for the local people through the tourism sector. The Eco-Camp was also involved in capacity building of local people to train them in catering, housekeeping and also in nature tour guiding for Pakke Jungle Camp. The society was also involved in the signing of a MoU with the Pakke Tour and Travel Department, Pakke Wildlife Department and Pakke Wildlife Sanctuary and Help Tourism Pvt. Ltd for the sustainable development of tourism sector in Seijosa area. The MoU was also aimed to help generate income and employment opportunities for the local people and for the conservation of the landscape.
Environmental Impact: The Ghore Aabhe Society carried out wildlife protection and global warming campaigns in multiple villages around Pakke and other villages in and around Arunachal Pradesh. The society was also involved in eviction drives of encroachers from Eagle Nest Wildlife Sanctuary. They also help in the seizure of illegal weapons from poachers from the forests. The society was integral in succesfully setting up the Hornbill Nest Adoption Programme in collaboration with Nature Conservation Foundation (Mysore) and Pakke Wildlife Sanctuary (DFO). The society also played a huge role in the recruitment of local people for the Hornbill Nest Adoption Programme.
Awards and Achievements:
2010 – Recipient of Wildlife Service award by the Royal Bank of Scotland and Sanctuary Asia
2015 – Recipient of All East Kameng Socio-cultural Organization award for community-based conservation
2010 – Tana Tapi – Recipient of the Carl Zeiss WildLife Conservation Award
Ecological Restoration Award
Born and brought up in Assam, Karishma is a Wildlife Biologist working towards safeguarding a patch of 500 km² of rainforest in Jeypore-Dehing lowlands which includes Dehing Patkai Wildlife Sanctuary in Assam. She completed her post-graduation from Wildlife Institute of India, Dehra Dun and her doctoral studies from Cambridge University on 'The Impact of Forest Fragmentation on Hoolock Gibbons in Assam'. Kashmira then took a break between 2002 and 2007 to raise her family with fellow Elephant Biologist Husband, Dr. Christy Williams. After coming back to the field, Kashmira started working for a carnivore project in the forests of Jeypore-Dehing where she discovered that the forest patch of Jeypore-Dehing was home to seven species of wildcats and multiple other species of carnivores as well. Some of the rare fauna that was captured during the study included the Clouded Leopard (Neofelis nebulosa), Marbled Cat (Pardofelis marmorata), and Golden Cat (Catopuma temminckii). Her project which was initially only phased for a couple of months, after the discovery of the extensive faunal diversity was extended for two years to study it extensively. And her project was supported by Critical Ecosystem Partnership Fund (CEPF), Wildlife Conservation Society – India, Rufford Small Grants Foundation, Forest Department and the government of Assam. Collectively her study documented 45 different mammalian species in the forests of Jeypore-Dehing, which brought about the required public and media support to protect the landscape from future threats.
Social Impact: Kashmira's efforts towards the conservation of the forests of Jeypore-Dehing has directly helped in supporting the local community who have lived in this landscape since a long time. Before Kashmira carried out the carnivore project, the overall status of Jeypore-Dehing was degrading with heavy logging, mining and clearing of forests taking place and harming the local community. Due to heavy extraction of resources from the forests, floodwaters would erode and wash of parts of the forest
Economic Impact: Kashmira's contribution to ecological restoration of the forests of Jeypore-Dehing did not directly affect the economic value of the community or the region, but it did increase the invaluable ecosystem services attached to restoration of forests such as soil formation, water purification, flood regulation, carbon sequestration, climate regulation, purification of water and air, and also control of pests and diseases.
Ecological Impact: Camera Trapping work carried out by Kashmira resulted in the discovery of seven wild cats and multiple other rare fauna at the forests of Jeypore-Dehing: Clouded Leopard (Neofelis nebulosa), Marbled Cat (Pardofelis marmorata), Golden Cat (Catopuma temminckii), Bengal Tiger (Panthera tigris), Indian leopard (Panthera pardus), Leopard Cat (Prionailurus bengalensis), Jungle Cat (Felis chaus), Dhole (Cuon alpinus), Malayan Sun Bear (Helarctos malayanus), Binturong (Arctictis binturong) and also various other species of mongooses, otters and civets. Her work also resulted in the first camera-trap record of Small-toothed Palm Civet (Arctogalida trivirgata) from India.
Awards and Recognition: 
1999 – Ravi Sankaran Inlaks Fellow
2007 – Recipient of Critical Ecosystem Partnership Fund Grant
2008 – Recipient of Rufford Small Grant Program, United Kingdom
Lifetime Service Award - 2014
Called as the Godfather of Conservation in Bhutan, Dasho Paljor J. Dorji has had a distinguished career with the Royal Government of Bhutan, serving three kings in the capacity of Magistrate of Paro District 1969-1972, High Court Judge 1972-1974, acting Chief Justice of Bhutan 1974-1985, Chief Justice of Bhutan 1985-1987, Deputy Minister for Social Services 1988-1991, Ambassador to the United Nations and European capitals 1991-1994, Deputy Minister to the National Environment Commission 1994-1997. Dasho is also the Founder of the Royal Society for the Protection of Nature in Bhutan (RSPN), Bhutan's First Environmental NGO and the Founder President of the Bhutan Ornithological Society as well as the Bhutan Ecological Society June 2010 (BEST). He is also the Ambassador to the United Nations in Geneva, also accredited to Austria, Finland, Sweden, Norway, Denmark, Netherlands, EU (Brussels), IFAD (Rome), and FAO (Rome).
Dasho initiated the Bhutan Trust Fund and also facilitated multiple environmental conservation efforts in the country. At present, Dasho serves as a Special Advisor to the National Environment Commission under Royal Command from His Majesty the Fourth Druk Gyalpo.
Social Impact: Dasho helped in improving lives of local communities in and around Protected Areas.
Economic Impact: Dasho's contribution to the field of nature and wildlife did not have a significant impact in an economic stance.
Ecological Impact: Dasho was involved in promoting and encouraging various conservation efforts in Bhutan. He also encouraged research studies and conservation-based conferences in Bhutan. And Dasho was also involved in fundraising for the wildlife conservation work in Bhutan. He also helped in the setting up of various environment-based NGOs for the welfare of wild animals. He has also attended and spoken in various environment and conservation-based conferences to support and promote the biodiversity of Bhutan.
Awards and Recognition: 
1988 – Recipient of the Global 500 Laureate from UNEP, for his service
1994 – Officer Order of The Golden Ark Netherlands presented by the late Prince Bernhard
Mark Shand Mahout award – 2014
Purna Chandra began as a Mahout back in 1945. Back then, a young Purna started off by being an assistant to the trainer mahout. He then learnt the art of handling and interacting with elephants. Since then, Purna Chandra has dedicatedly served the Assam Forest Department as a dedicated and passionate mahout and immersed his life towards the conservation of Asian Elephants.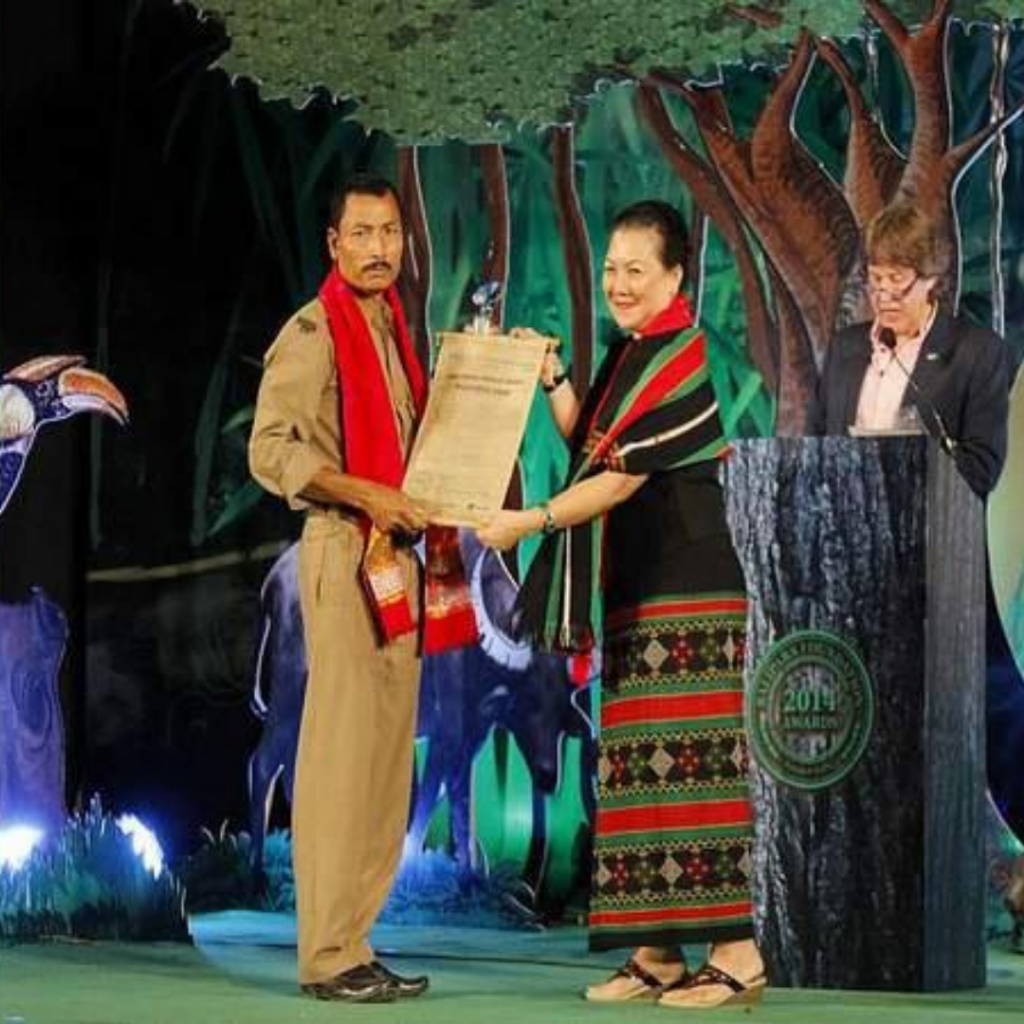 Mark Shand Mahout award – 2014
Bhumidhar is a skilled forest worker who has been serving as a mahout in Pabitora Wildlife Sanctuary since 2011. Deka is an expert in Rhino behavior, and he began working in Pabitora in 1993. During which he recovered three rhino horns from the sanctuary premises and handed them over to the forest department. Since 1993, Deka has been responsible for bringing back multiple straying rhinos that may have wandered outside protected areas. He also has a strong rapport with the local community members near Pabitora. His work has greatly contributed to the conservation of the Indian Rhinoceros.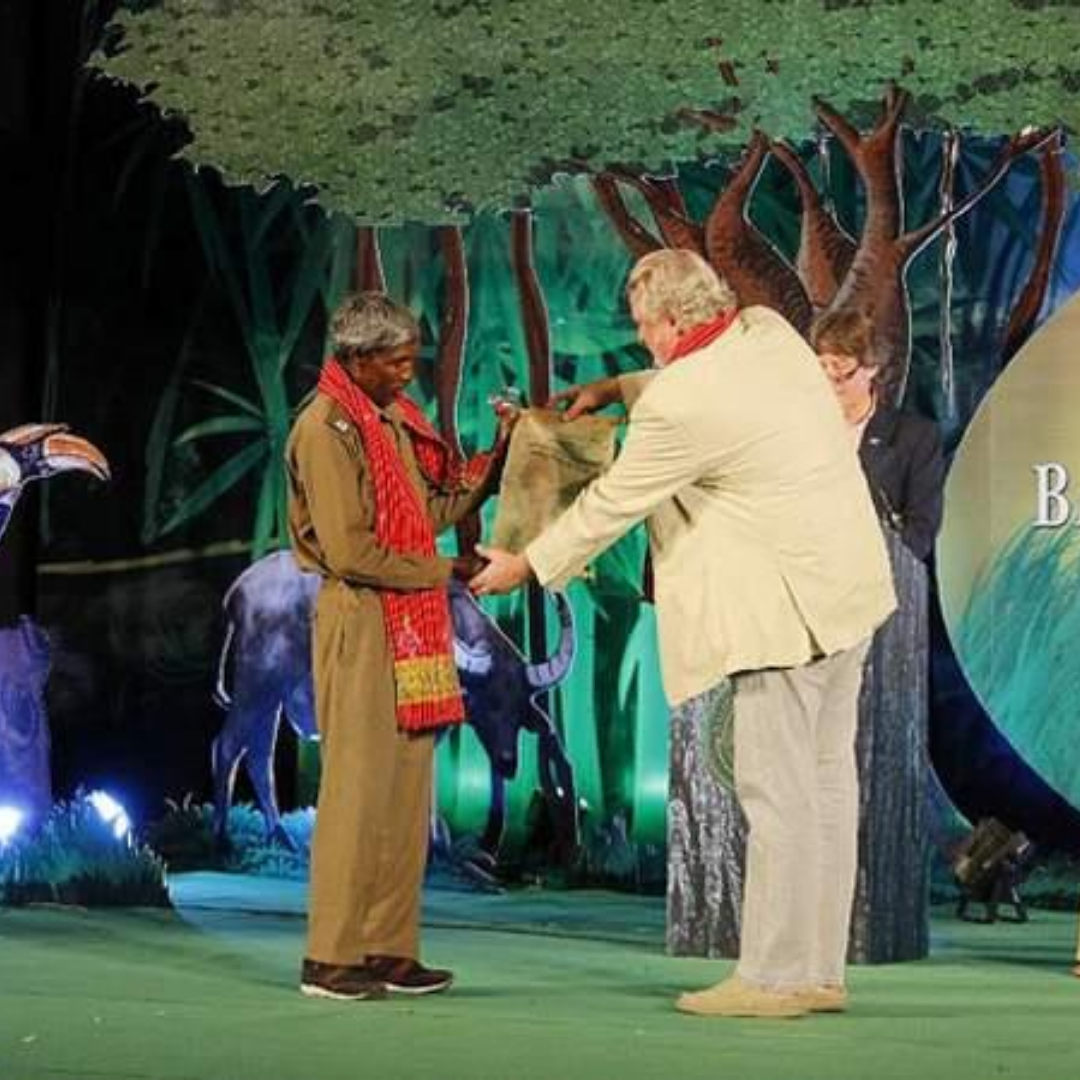 Mark Shand Mahout award – 2014
Starting off as a grass cutter in Assam Forest department, Mongal Ghatowal, now a reputed and retired 'Mahout' is a highly respected individual and is known for his love for elephants. The forest department was able to see his talent and passion towards communicating with elephants as so he was appointed as a mahout. He is particularly known for his courage and ability of managing 'difficult' elephants.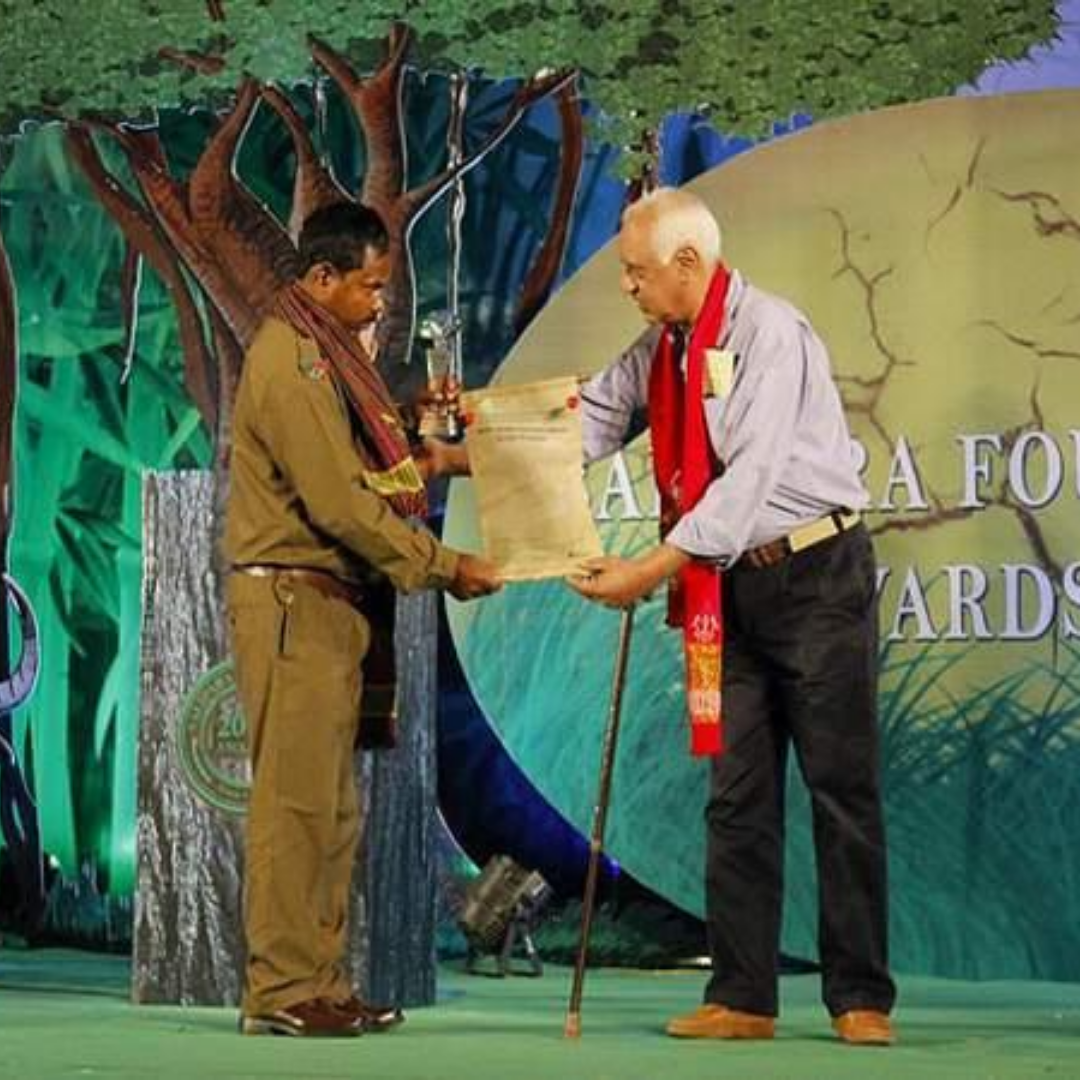 Mark Shand Mahout award – 2014
Born in a family with a strong lineage of mahouts, Kiron was born with an inherent understanding of the gentle giants. His family has always had the legacy of capturing wild elephants. His upbringing was in an environment wherein he was fortunate enough to learn about all tricks regarding the mela shikar, traditional medicines and training of wild elephants. Kiron joined the forest department as a grass cutter in 1990, but was later promoted as a mahout in 1999. Since then he has been serving and handling elephants, and in particular taking care of an impossible-to-handle elephant called 'Kartik'.
Mark Shand Mahout award – 2014
Born and brought up in Patosali village in Balipara Reserve Forest, Sukla is an extraordinary individual and mahout with immense traditional knowledge about nature, wildlife and communities. Sukla is known for his forest stories and is also considered an expert boatman, guide and naturalist. He is very well informed regarding the whereabouts of every nook and corner of Nameri National Park.
Nature Activist Award - 2014
Saipari is a postdoctoral fellow at North Eastern Hill University (NEHU) who has been immensely involved in the field of wildlife science and conservation since 2004. Her field of interest is specifically in herpetology, and she has also been a part of the team that discovered a new species of frog Leptolalax tamdil in Tamdil Lake, Mizoram. Her discovery was documented and published in the international scientific journal Zootaxa. Under the DST research grant for Women Scientists, Saipari has also worked on the effect of pesticides on the development of Fejervarya limnocharis in Eastern Khasi Hills, Meghalaya. Shealso went on to receive her PhD for her doctoral work in the ecology and biology of Annandale's frog Clinotarsus alticola.
For her contribution to science and conservation of amphibians in Northeast India, Saipari was awarded the Nature Activist Award by Balipara Foundation in 2014.
Social Impact: Saipari's wildlife science and conservation work has very little or no social impact to communities.
Economic Impact: Her work was more oriented towards the scientific aspect of wildlife conservation and very little on the social and economic viewpoint.
Ecological Impact: Saipari has extensively worked on studying the distribution and ecology of amphibian communities in India. She has also worked on impact of human-related changes on amphibians and other herps as well. She has also carried out biodiversity assessment of amphibians in different regions in Northeast India.
Awards and Recognition: 
2008 – Recipient of the Best Participant Award during the 1st SERC School in Herpetology, Department of Zoology, North Orissa University, Baripada.
2008 – Recipient of the 2nd best oral presentation Award for the paper – 'Amphibian Diversity in Mizoram' at the National Symposium on Advances in Zoology: Faunal Diversity and Ecophysiology, Department of Zoology, NEHU, Shillong.
Neihunuo Sorhie comes from a simple and modest family upbringing. Her father Lt. Duopie-o Sorhie, died when she was very young. She has two brothers Vozilie and Akhrie-o in the family, for whom she would weave shawls from a young age. Her mother taught her how to weave and by the age of six she was able to weave clothes herself. The weaving was a part of her childhood and culture, and eventually it transcended to being her passion in life. Due to her financial background, Neihunuo could not complete her education and neither did she exclusively study weaving, but with her hard work and determination, she managed to do a brilliant job in it. She was also supported in every step by her mother.
Neihunuo eventually went on to set up her own enterprise where she would employ around 60 tribal weavers who would develop a range of products, ranging anything between shawls and purses made to showcase the exquisite Naga craftsmanship and culture. She is known for giving individual 'finishing touches' to each of the products herself. And with the help of her profound passion for weaving, her enterprise has been showcased in more than 90 different exhibitions both in India and abroad. She continues to develop her skill and craft in weaving and textiles, and for this, Balipara Foundation presented her the Naturenomics™ Award in 2014.
Social Impact: Neihunuo has helped in providing livelihood opportunities to a small portion of tribal women in North-east India, and till date continues to increase the capacity of people who can work in her enterprise.
Economic Impact: Neihunuo has helped to increase the reach and awareness of Naga Tribal groups and about their art and culture, with respect to textiles and other products.
Environmental Impact: Neihunuo, through her enterprise, is in a moderate way helping tribal women deviate from extracting natural resources from the park and instead channeling them to depend on sustainable livelihood through weaving.
Awards and Achievements:
2007 – Recipient of National Award from National Centre for Textile Design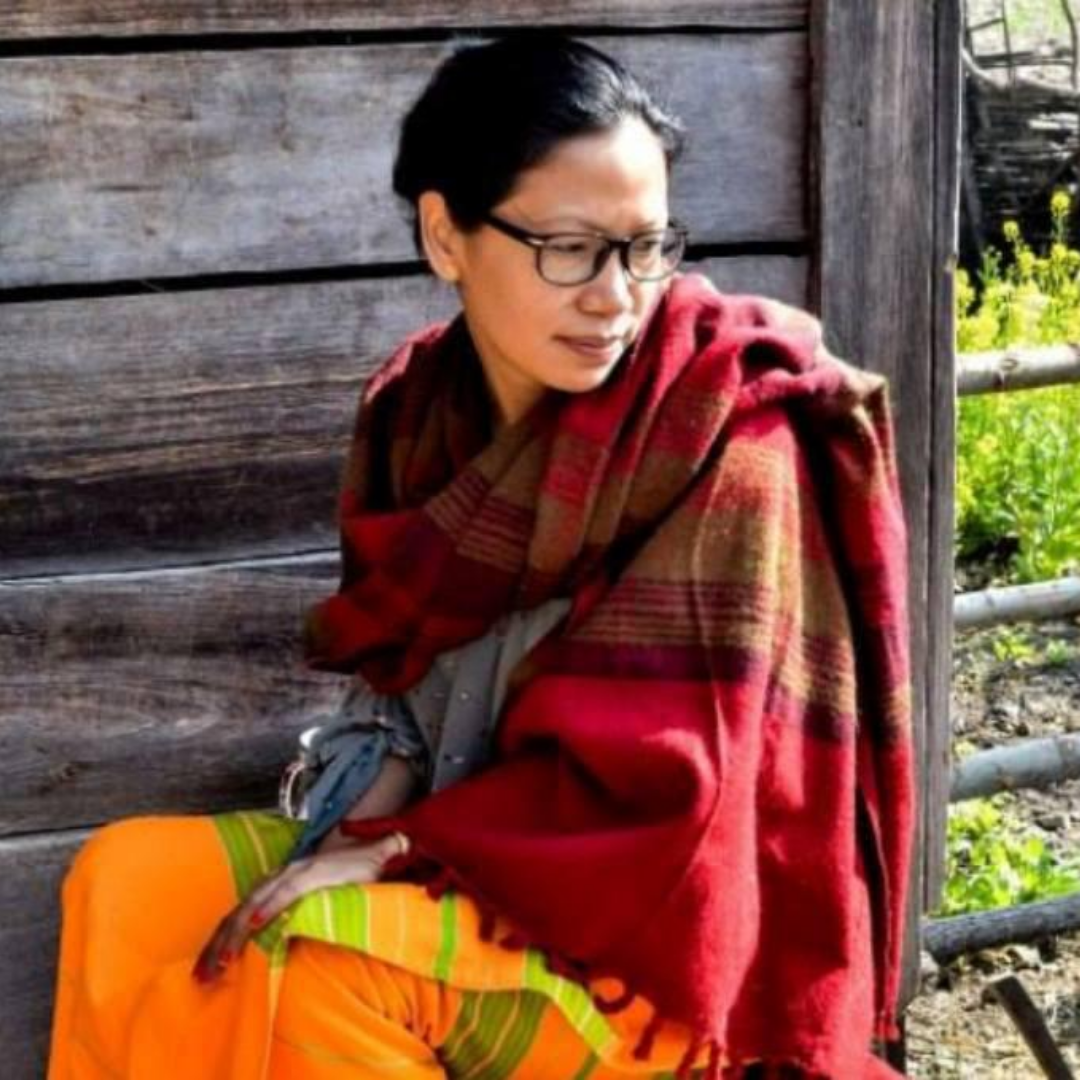 Young Naturalist Award - 2014
Tongam Rina is the Associate Editor of The Arunachal Times and is known for her bold articles on current affairs in Northeast India. She was near-fatally shot in front of her office in 2012 by gunmen for writing on sensitive issues. In the past, Tongam and her staff has received numerous threats for her writing against NSCN(IM), corruption and super-hydro dams of Arunachal Pradesh. She has also shed light to the imbalance in distribution of food within the state, illegal developmental activities, extremism by Maoist groups, environmental scandals and also regarding the state of women in Northeast India. Born in 1979, in a very short duration, Tongam has been able to become one of the prominent journalists of Arunachal Pradesh. She has also experience in being a school teacher in her early days. She also led the Hunger Project's State Unit in Arunachal Pradesh, besides teaching communication at the State University.
Tongam has received several accolades for her journalistic contribution so far. Tongam also received the Young Naturalist Award by Balipara Foundation in 2014 to confer her for her contribution in highlighting important issues on communities and environment in Northeast India.
Social Impact: Tongam has reported and written on the discrimination and imbalance of rights and power for the local communities in Arunachal Pradesh. She also raised her voice on the atrocities against the women in Arunachal Pradesh.
Economic Impact: Tongam's reports and articles on current events in Arunachal Pradesh have highlighted economic viewpoints and conditions prevailing in the state of Arunachal Pradesh and also in other states of Northeast India.
Ecological Impact: Her reporting on issues like the illegal construction of hydro dams in Arunachal Pradesh helped in informing and bringing the problem under public viewing. She has also reported and written on multiple other environmental degradation case studies which have helped governing authorities to take stern action against offenders.
Awards and Recognition: 
2012 – Recipient of Laadli Media Award for Gender Sensitivity, Eastern Region, in Kolkata.
2013 – Recipient of 'Freedom and Future of the Media' Award by Media Foundation, Leipzig, Germany.
2014 – Honored by `Reporters without Borders` – Reporters Sans Frontier-RSF (the international organization that works for freedom of the press and information), and is the only Indian journalist to find a place in the list of `100 information heroes`.
2014 – Recipient of CNN-IBN Indian of the Year Award for her contribution to Public Service.
2014 – Recipient of Courageous Journalism' Popular Choice Award in Arunachal Pradesh.