The Balipara Foundation Awards introduced by the Balipara Foundation in 2013, stands as a platform to reward and encourage the efforts of grassroots conservationist and social entrepreneurs working tirelessly towards preserving the rich biodiversity of the Eastern Himalayas.
The Annual Balipara Foundation Award
Trinity Saioo, Meghalaya
Organic Turmeric Farming & Women Empowerment
Trinity Saioo is a synonymous name with turmeric (lakadong) in India. The world owes her when it comes to restoring faith in organic farming and simultaneously building resilience within her community especially addressing the multilayered issues tackled by women in Meghalaya – the irony of a state which is known to be matrilineal in nature. 
The Lakadong variety of turmeric that Saioo and the women farmers in her Self-Help Groups (SHGs) grow contain between 6.0 -7.5% of curcumin, the chief constituent of turmeric that gives it its salutary properties including the bright yellow colour, and the distinctive earthy piquant taste that lays the foundation for most Indian cooking. Curcumin is a highly prized medicinal spice believed to have effective anti-inflammatory, anti-diabetic as well as anti-cancerous properties. Lakadong Turmeric, grown indigenously in the Jaintia hills of Meghalaya, is believed to be the gold standard in commercially sold turmeric.
Lakadong has not only been introduced by Saioo as a medicinal spice but as an element that would bring about a shift in the socio-economic mobility of communities with the lens of an alternate source of livelihood and now a primary one. 
From enriching women on an integrated method of farming to generating revenue which turned out to be three times the regular income and empowering those who needed uplifting, Saioo has been a beacon of light and hope for communities across the world and not just the nation. 
The success of the women Lakadong turmeric farmers of Mulieh, evident in new houses and better living conditions for the families, was enough to persuade women farmers in the neighboring villages of Madankynsaw, Mynktung, Rtiang, Pyntei and Laskein to switch over to Lakadong variety. From a modest start in 2003 with 25 other farmer women, Saioo's SHG farmer collective has now grown to around 800 women farmers in Meghalaya.
The Annual Balipara Foundation Award
Association for Environmental Preservation, Mizoram
Awareness and Action towards wildlife and biodiversity conservation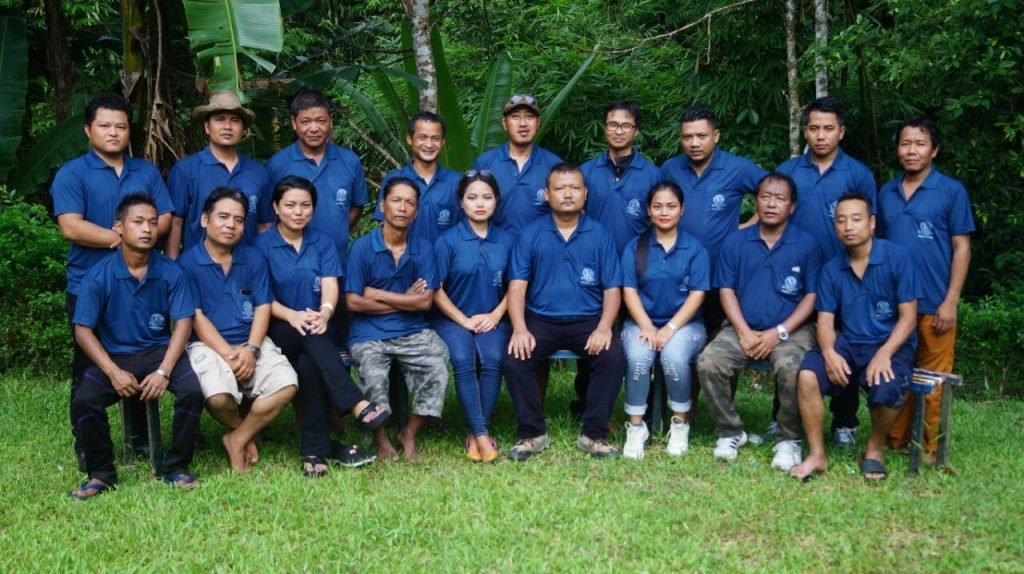 Association for Environment Preservation is a registered non-governmental organization based out of Mizoram working towards creating awareness and taking action towards wildlife and biodiversity conservation. From carrying out activities that would advocate for conservation, the organization also works towards developing plans to address matters of ecological restoration through sustainable development. 
Seno Tsuhah, Nagaland
Community Conservation and Gender Justice
Seno is a farmer, primary school teacher and community development worker based in Chizami village in Phek district of Nagaland, North East India. She also works with North East Network (NEN) and has over the last 18 years led a team of community-based workers on issues of women's rights, governance, natural resource management and sustainable livelihood. NEN is a women's organization working in Assam, Nagaland and Meghalaya, committed to gender justice, equality and human rights. 
Her engagement with ecological issues ranges from strategic policy advocacy with village institutions, state, regional and national networks, mobilizing young people in cultural and environmental audio-visual documentation and enabling women farmers in strengthening the practice of ecological farming and sustainable livelihoods.
Seno believes that – "here is an urgent need to take forward the society with good leaders in the governments and faith-based organizations. The world needs healing, not only human beings but our planet, mother earth. The COVID-19 crisis is also a time to reconcile and make peace with mother earth."
Jorjo Tana Tara, Arunachal Pradesh
Environmental Activism
Jorjo Tana Tara, is a member of the indigenous Nyishi community and a prominent anti-logging activist from Arunachal Pradesh. He discovered illegal loggers and poachers at a large salt lick that often hosts elephants from nearby Pakke Tiger Reserve and Kaziranga National Park in the town of Lower Seijosa in East Kameng district of Arunachal Pradesh. Tara is a resident of Seijosa, a remote village in West Kameng which is located just outside Papum Reserve Forest, a roughly 1,000-square-kilometer (390-square-mile) area of rainforest that is one of the last vestiges of the great hornbill (Buceros bicornis) and the wreathed hornbill (Rhyticeros undulatus).
In one of his achievements, Tara managed to mobilize the fringe communities at the illegal forest felling sites of Seijosa town through awareness and campaigns to counter deforestation and hunting of wildlife. Environmentalist cum Conservation Activist Tana Tara also submitted a representation to the Governor of Arunachal Pradesh and Chief Minister seeking their intervention to restrain the illegal loggings in Eastern Arunachal and safety of his volunteers.
Eastern Himalayan Conservation Award
Sangti Wanmai Konak, Nagaland
Biodiversity Conservation and Documentation
Sangti Wanmai Konyak is a social worker, conservationist and a filmmaker who has been on a mission to safeguard his community and the forests around it. Wanmai first became aware of conservation and its importance when he underwent the Green Hub Fellowship Programme. It proved to be a life-changing experience for Wanmai. A two-kilometre square patch of forest was offered to the BMC by a village senior, where hunting and jhum cultivation was strictly prohibited. Eventually, Wanmai's negotiations with the Nagaland government resulted in a law banning hunting between April and September in the surrounding areas as well. And, in 2019, the rule was widely respected by the community and not a single animal has been hunted since.
Nosang Limboo, Sikkim
Conversation of butterflies
Nosang Limboo is a butterfly enthusiast, naturalist, wildlife photographer and a social worker from Sikkim. Some time back, Nosang had penned a pictorial guidebook on butterflies and moths and has been extensively carrying out butterfly conservation in Sikkim. As a student of English Literature, he has romanticized nature whenever possible in his writings, thus increasing his fascination towards the environment. When he ventured into tourism with 'The Himalayan Rumveek' travel agency with his friend Sonam Palzor Bhutia in the year 2009, Nosang did not yet know that he would become a butterfly enthusiast one day. 
Apart from being a butterfly enthusiast, Nosang also has maintains a keen interest in Ornithology. He is currently associated with the Sikkim Ornithological Society (SOS) and has been involved with various initiatives to promote and disseminate knowledge on birds and butterflies among the young minds of the state.
Akshar Foundation, Assam 
Provides secondary education that balances vocational training with conventional academics
Akshar Foundation's model of education, which is recognised by the United Nations, helps students move through the curriculum based on their skill level, rather than their age. "For kindergarten and pre-school, our worksheets teach children how to read up to sentence and paragraph level. Then they move on to the Cambridge Global English curriculum for primary school. We have students who were child labourers until three years ago. They didn't know the alphabet when they came to us. Within three years, with the help of this curriculum, they're now studying standard 5 Cambridge English," reveals Mukhtar.
Meta-teaching is a system devised to ensure that all children receive the individual support and encouragement they need to learn effectively.Akshar teaches older students how to teach and employs them as teaching assistants. Meta-teaching benefits adult teachers, teens, and young students.
Food For The Future Award
Parimal Das, Tripura
Organic Dragon Fruit Plantation
Parimal Das is horticulturist/farmer from Tripura, who has been growing several varieties of fruits including mango, lemon, sweet lime for 12 years, but couldn't take his eyes off the dragon fruit when he saw it for the first time on YouTube. Parimal's growing fascination with the fruit, pushed him to try and grow them in India, at the heart of Tripura, with amazing results. In fact, his efforts were even recognised by Chief Minister Biplap Kumar Deb in a recent Facebook post.
He has been defined by his engagement with plants – first he began his passion with his father and then went on to garden and farm independently. Parimal's passion became a profession. Now he is keen on expanding his knowledge and Is passionate to have interactions with other farmers who may wish to expand their livelihoods including entrepreneurship to their farming prospective.
Arannayk Foundation, Bangladesh
Habitat Restoration, Climate Mitigation & Natural Resource Management
The Arannayk Foundation (AF), also known as the Bangladesh Tropical Forest Conservation Foundation, is a not for profit company (limited by guarantee and not having a share capital), established in 2003 by the joint initiative of the Governments of the People's Republic of Bangladesh and the United States of America based on the provisions of the US Tropical Forest Act of 1998, which seeks to contribute to the conservation of biodiversity assets of tropical forests.
The mission of AF is to facilitate the conservation, protection, restoration and sustainable use of tropical forests in Bangladesh, which provide a wide range of benefits to mankind, by providing financial grants or other support to qualified organizations or entities. 
Forest Rangers & Guards Award
Gyem Tshewang, Bhutan
A dedicated forester who coordinates with all tiger research and conservation work in the field at Bhutan
Mr Tshewang was born and brought up in Bhutan. His dedication to the country resonates through his continued endeavors to increase community participation in management and conservation of forest through educational outreach, establishment of community forest and private forest. 16 community forest management group and 25 private forests were established in eastern part of country with technically sound forest management plans. • Supported and enhanced rural income through exploring forestry-based community enterprises – 7 Community based enterprises were established.
He has initiated writing many proposals and received good amount of grants from internal as well external donors. Such initiative has brought immense benefit not only to the organization but also to the communities. • Served as focal coordinator for community based Natural Resource Management (2010 – 2014) under Trashigang district funded by World Bank through sustainable land management project under National Soil Service Center, MoAF.
Mr Tshewang has also restored Chongdari watershed through reforestation and Community based Natural Resources Management approach (CBNRM). • Project Manager for Biological corridor management plan preparation and human wildlife conflict studies funded by Bhutan Trust Fund for Environmental Conservation (2018 – 2020) • Provided information and strategies on conservation of forest and biodiversity through conducting field research on fresh water ecology, distribution and diversity of birds, butterflies and small mammals – "Bats"- the forgotten species in the country.
Tin Tin Saw, Myanmar
Community Forestry
67 years old, Tin Tin Saw started community forestry activities in her village (Pin He Village) to stop illegal logging and mining for construction. Because of her effort, a total of 61 community forestry members are involved in environmental conservation activities at her village (Pin He Village) in Kachin state of Myanmar.
Tin Tin Saw was born in 1954, in a township called Mohnyin and began her journey towards community health care alongside community development in the year 1977. Since 2009, she has continuously worked towards conserving forests from being degraded and is determined to make phenomenal changes. 
Dr Parimal Chandra Bhattacharjee
Icon of Wildlife Conservation
Dr. Parimal Chandra Bhattacharjee is a respected academic and a retired Professor of Gauhati University, Assam. He pioneered many wetland studies, primatology and biodiversity studies across north-east India. Dr Bhattacharjee has been a guiding light to his students because of his knowledge, positive outlook and humanity which is a hallmark of great persons. Even now when he has surpassed the age of superannuation, he has continued to guide students for academic degrees and he is also actively involved in teaching and conservation assignments.  His foresight for a greater conservation plan for Northeast India and in particular Assam has been consistent and science-based effort. 
Dr. Bhattacharjee has guided over 30 students for a PhD in ecological studies and also indirectly assisted several students to come up with conservation-oriented goal for target species in Northeast India. His students in turn have also guided and supported several other young researchers who have carried forward this unique chain of career conservation, scientists, NGO representatives etc and this continues to grow. Dr. Bhattacharjee is also a member of several governmental and state committees on wildlife conservation including the National Biodiversity Authority (NBA), State Biodiversity Board (Assam), State Wildlife Board (Assam) and the Regional Empowered Committee (North East), MoEFCC, GoI. He has also served as the Director (Research Advisory Council), Vivekananda Kendra Institute of Culture and as a Visitor's Nominee to Pondicherry University and  Assam University (Silchar). He is also an erstwhile state level cricket player and was a member of the state Ranji Trophy selection committee.
Special Recognition Award: Indigenous Leadership
Komison Milli, Assam
Baligaon Village 
Komison Mili has been an exceptional community leader and change maker for Baligaon. He has been able to mobilize the people of Baligaon to understand the important connection between ecology and economy. He has been able to include women and the youth of Baligaon to take charge of social entrepreneurship through various aspects of homesteads, agroforestry, ethnobotany and other verticals leading to a holistic development of Baligaon bringing in accolades like the Green Village Award and educating people from other communities to urbanscapes, Komison Mili in truly an indigenous leader of his time.