GLOBAL NATURENOMICSTM PUROSKAR

Sir Partha Sarathi Dasgupta
United Kingdom
Professor Sir Partha Dasgupta FBA FRS ( UK ) is the Frank Ramsey Professor Emeritus of Economics, at the University of Cambridge. Professor Dasgupta's pioneering work on rural poverty in developing countries in the context of a deteriorating environmental resource base; brought together previously disparate fields of welfare and environmental economics, unifying the concepts of intergenerational equity and sustainable development and pointing to their equivalence. In a wide-ranging book on human well-being and the natural environment, he showed that the coin by which economic progress should be judged is a comprehensive measure of a nation's wealth, and not GDP or the many ad hoc indicators of well-being in common use today. He has used these findings to develop an ideal system of national economic accounts, which is being implemented in India and several other countries. His lifelong aim of bringing nature seamlessly into economic reasoning has had a huge impact on contemporary thinking.
Born in Dhaka, Bangladesh, in 1942. He moved to Varanasi, India, where he spent his early childhood, a famous economist for a father who was always considering ways to eradicate poverty; "Do not see things through preconceptions. Look at the evidence and think logically." were words from his father that stuck with him.
Professor Dasgupta began conducting research on the relationship between humankind and ecology to clarify what nature contributed to wealth and happiness; he came to see nature as the center of economics. He began studying the lifestyles of people who lived in countries in the Global South, especially small farming villages because it was them who had a direct relationship with nature. It is because of this belief that Professor Dasgupta worked to apply economics to the field of Environment and vice-versa, something that no one had done before.
Sir Dasgupta, is a Frank Ramsey Emeritus Professor of Economics at the University of Cambridge, Fellow of St John's College, Cambridge, and Professorial Research Fellow at the Sustainable Consumption Institute, University of Manchester. During 1991-97 he was Chairman of the (Scientific Advisory) Board of the Beijer International Institute of Ecological Economics, Stockholm. Since 1999 he has been a Founder Member of the Management and Advisory Committee of the South Asian Network for Development and Environmental Economics (SANDEE), Kathmandu. In 1996 he helped establish the journal Environment and Development Economics, published by Cambridge University Press, whose purpose has been not only to publish original research at the interface of poverty and the environmental-resource base but also to provide an opportunity to scholars in developing countries to publish their findings in an international journal.
His research interests have covered welfare and development economics, the economics of technological change, population, environmental and resource economics, the theory of games, the economics of undernutrition, and the economics of social capital.
A few of his recent publications are:
Some of the books that Sir Dasgupta authored are: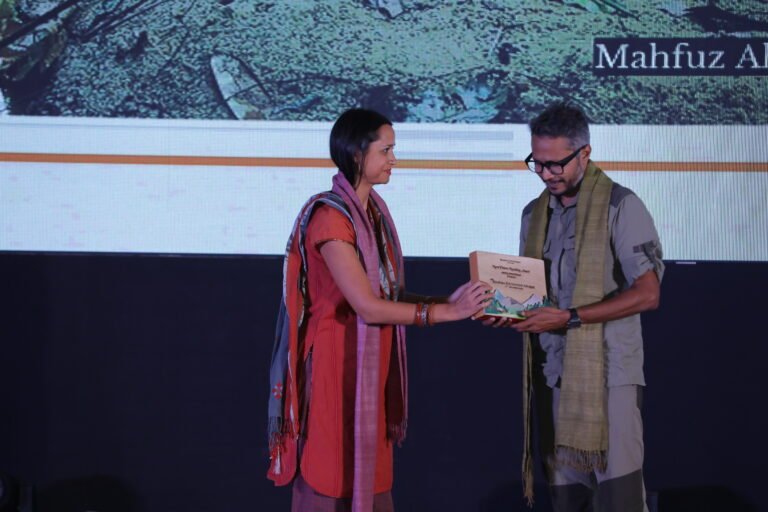 RURAL FUTURES REWILDING AWARD

Mahfuz Ahmed Russel
Bangladesh
Mahfuz Ahmed Russel is an individual whose passion and determination are leading the preservation of biodiversity in the Matiranga Upazila in Khagrachhari, Bangladesh, under an initiative titled Pittachhara Forest and Biodiversity Conservation. He and his friends are responsible for pooling in money and buying pieces of land, keeping in mind the conservation work that could be done in the area.
Ever since people started moving into the Chattogram Hill Tracts, the increased pressure has led to the thinning of native forests, which were a part of the Indo-Burma biodiversity hotspot. Khagrachhari district was no different. A forest that was once flourishing with fauna such as leopards, deer, and elephants, was replaced by human habitats and monoculture crops.
Mr. Russel and his friends today own and preserve 23 acres of forest under their initiative and continue to strive to protect other fragments of forests in the surrounding area by communicating with the villagers on the detriments of hunting.
Hunting had begun to reduce due to his efforts, but he remained worried. The major problem of forest spaces being used as teak plantations continued. 'Pittachhara Forests' became an example of what could be achieved if people could protect the forests and let biodiversity flourish. The forests are today home to several species including the Bengal slow loris, pig-tailed macaque, the rare jungle cat, and a diverse variety of birds and snakes, bringing wide recognition from conservationists and wildlife enthusiasts alike.
With dense vegetation and an active hill stream, the area supports approximately 150 species of resident and migratory birds including the regional endemic Cachar Bulbul and globally Near Threatened species like the Red-breasted Parakeet.
Born in Dhaka, his love for nature started when his father got transferred to the small town of Patuakhali in the 1970s, where Russel spent most of his time observing the wide variety of insects, plants, and birds surrounding his home. Moving away and living a polar opposite life in Manchester, England, he realized his heart lay in living a lifestyle more in-tune with nature. He traveled the world to learn from several indigenous communities, how to live self-sufficient lifestyles. He then sold his house in Manchester and returned to Bangladesh, and eventually ended up buying and conserving the land that today is 'Pittachhara'.
aving faced accusations of being a runaway criminal when he tried to speak of the excess hunting that was happening, to winning the support of the locals and improving educational, medicinal, and livelihood for them along the way, Mr. Russel's journey for conservation has come a long way.
The initiative is now trying to purchase more forest land, but the problems are immense. In some cases the ownerships are questionable, and in others, the owners are not cooperating. Funding is also a big problem, which is currently non-existent.
Pittachhara Initiative continues to understand the problem at hand and is devising plans to address them. It hopes to create a circular economy based on the forest by organizing carefully guided tours for nature-conscious tourists, in turn sharing the generated revenue with the locals so that it creates motivation for the conservation of the remaining forests.
"When the villagers will see they can earn money from showing trees to the tourists, they will not replace the native plants with commercial varieties anymore," Pittachhara's founder hopes.
RURAL FUTURES REWILDING AWARD

Radha Wagle
Nepal
Radha Wagle is Nepal's first woman Joint-Secretary and Chief at the RED Implementation Centre under the Ministry of Forests and Environment, focusing on making the forestry sector more inclusive for women and marginalized groups. She brought into existence a Gender Action Plan that identifies ways to make forestry programs more responsive to the needs of women and encourage their participation at all levels of government, civil society and the private sector.
Ms. Wagle's time as a young forest ranger in the Eastern region of Nepal made her aware of the stark paradox existing within the land-use sector. She learnt of the essential role and time women spent with regards to forests and the immense knowledge they had acquired over time, yet, she also observed—and experienced herself—how women were marginalized time and time again in this male-dominated field.
Upon learning that this scenario persisted across the country, she decided that she wanted to do something about it. Her appointment as the joint secretary of Ministry Forests and Environment in 2015 remains a landmark achievement, leading to the increase in the engagement of Nepalese women in Forest management.
In a country where less than 20% of women own land, and many do not have the rights of decision-making within their households and communities, Ms. Wagle work is pivotal.
Her role in crafting a revised Gender and Social Inclusion Strategy included consulting with communities to address forest-related issues that affect women, indigenous peoples, socially-stigmatized lower castes, and the poor, giving rise to a new revolution in the field of forestry in Nepal.
Driven by her personal experiences of the discrimination she faced in the field, Ms. Wagle is now busy developing a 'gender code of conduct' involving regional and national level workshops at multiple districts, which will help protect women foresters against sexual harassment, exclusion and bullying.
Her role in finalizing Nepal's Gender Action Plan, which was supported by the World-Bank's Forest Carbon Partnership Facility has helped map the social, economic and conditions of the country's forest sector and has promoted greater awareness of forestry resources by increasing the active participation of women in forest management by creating working opportunities for them.
Ms. Wagle believes that the forestry sector can be women-inclusive only when women working in all three areas – government, civil society, and the private sector – are united and empowered. Community-forest projects across the country should have equal representation of women in workforce and leadership roles.
Her motivation and hope continues to help her look at the bigger picture. "True gender equality is both an indicator and a driver for economic growth at national and community levels. Women's engagement in forestry and access to green jobs can lead to more sustainable economic growth, and our climate and futures depend on this' says Ms. Wagle.
GREEN LEGAL AWARD

Syeda Rizwana Hasan
Bangladesh
Syeda Rizwana Hasan, a charismatic and vehement lawyer, is the chief executive of the  Bangladesh Environmental Lawyers Association (BELA), a public interest law firm, through which she has been championing the cause of redefining the notions of development that are devoid of environmental consideration.
Having grown up in a politically engaged family, she received her master's degree in law at age 24 and soon after joined BELA, committing herself to public service. She soon became one of the country's leading young voices for the environment, enrolling herself with the Supreme Court of Bangladesh.
As an environmental lawyer and activist, Rizwana has led numerous successful legal and social campaigns protecting locals' traditional livelihoods and agricultural and forest rights. Rizwana has filed numerous PILs on various environmental issues most of which have received favourable orders/judgments including vehicular pollution, river pollution, industrial pollution, ship-breaking, unregulated mining, unplanned urbanization, commercial shrimp cultivation, deforestation, and loss of biodiversity.
Being an anthropocentric environmentalist, her efforts are adding value to the conventional human rights movement by bringing in the elements of environmental justice. She places people's legitimate rights at the center of her activism.
Courtesy of her work, BELA received the Global 500 Roll of Honors of the UNEP in the year 2003 and the Environmental Award 2007 given by the Department of Environment for popularizing environmental law. The organization has also been awarded the M. Saleem Ullah Memorial Gold Medal in the year 2009, as a token of recognition of its service to the people in providing effective leadership for the preservation and sustenance of the environment.
Rizwana herself has received the 'Ananya Top Ten Award' given by a reputed journal in Bangladesh. She is also amongst the first five South Asian women to receive the 'Celebrating Women-hood' award (2008) given by the Creative Statement and South Asia Partnership based in Nepal. Rizwana received the prestigious Goldman Environmental Prize for the year 2009 for spearheading a legal battle in Bangladesh resulting in increased government regulation and heightened public awareness about the dangers of ship-breaking. She has also been named one of the 40 Environmental Heroes of the World by TIME magazine. Recognizing her impassioned leadership and uncompromising courage in the field of judicial activism,  Rizwana has been awarded the Ramon Magsaysay Award in 2012 for demonstrating that the right to the environment is equal to a person's right to dignity and life.
BANGLADESH LIFETIME AWARD

Mr. Golam Mainuddin
Bangladesh
Golam Mainuddin has been the Chairman of British American Tobacco Bangladesh since August 2008. Right after finishing his studies of a Masters in Science, from the Dhaka University, he started his career in the agro-based industry and he remained a part of it for 28 years.  He then switched to corporate management and has been in the role since the past 20 years. With humble beginnings comprising a role as a tea garden manager at Duncan Brothers from 1969 to 1982, he went on to join BAT Bangladesh and was soon promoted as Head of Leaf in 1985 and Deputy Managing Director of BATB in 1997.
Mr. Mainuddin was conferred with Asia's Best Employer Brand Awards organization and he has been conferred the declaration of CIP (Commercially Important Person) by the government of Bangladesh since 2010.
At present he is incumbent to some of major portfolios in Bangladesh like Director of Federation of Bangladesh Chamber of Commerce & Industries (FBCCI);  Director of  Advanced Chemical Industries (ACI) Bangladesh; Director, Infrastructure Investment Facilitation Company (IIFC); Vice-President, Metropolitan Chambers of Commerce and Industries (MCCI); Vice-Chairman, Bangladesh Cigarette Manufacturer's Association
One of the most remarkable achievements that Golam Mainuddin is always admired for is founding of the afforestation project of BAT Bangladesh, which is presumably the largest private sector-driven afforestation initiative in Bangladesh. BAT Bangladesh has received the prestigious Prime Minister's National Award five times in the years 1993, 1999, 2002, 2005, 2019, and the Chief Advisor's Award in 2007. 
The afforestation initiative started in 1980 and now has a legacy of 42 years and has successfully distributed 125 million saplings across 18 districts of the country through various public-private partnerships with institutions including – The Refugee Relief and Repatriation Commissioner (RRRC), Bangladesh Police, Bangladesh Army, Bangladesh Navy, Border Guard Bangladesh, Rajshahi city corporation, and many more. 
This project is designed to focus on the socio- economic needs of the communities as well as the overall environmental perspectives. The execution of the initiative came with unique challenges. Motivating the farmers and inspiring them to plant seedings was extremely challenging initially, but Mainuddin was able to motivate them by communicating and explaining the benefits. 
Mr. Mainuddin is optimistic about the future of agro- based industries in the country. He believes that with a good number of educated young people going into cow-rearing, aquaculture, and vegetable farming, the future of agriculture is in good hands. This is also reflected in the current agricultural production, which is much higher than what it was even 20 years ago.
FOOD FOR THE FUTURE AWARD

Delowar Jahan
Bangladesh
Delowar Jahan and his peers – mostly students of the mass communication department of Chittagong University, of the 2004 batch, launched the 'Prakritik Krishi Bipanan Kendra', upon the realization that their academic studies were too biased towards Western philosophy and hence could barely address issues related to Bangladesh's rural society, for whose betterment they wished to work towards. Prakritik Krishi Bipanan Kendra' their outlet offers seven categories of naturally farmed agricultural produce and remains open only one day of the week as principle.                     
Delowar and his associates chose to educate themselves in the agrarian culture of Bangladeshi farmers to understand the communication practices of the people. Remaining conscious of Bangladesh being an agriculture-dependent country, they studied grassroots-level farming for eight years and identified some key threats to the country's agriculture. The use of toxic fertilizers and pesticides that were being pushed since the popular 'Green Revolution' in the 1960s, as a means to gain high yield had slowly started turning the soil infertile and was threatening public health.
The group under the Prakritik Krishi banner aimed to address the need of a platform to implement the centuries-old knowledge of "natural agriculture," which did not require toxic chemicals for high yields. So in the year 2013, they set up a natural agriculture farm on a plot of land for crop-sharing, belonging to a farmer in Amtali village of Daulatpur upazila in Manikganj.
Unfortunately, their first attempt was a setback as the land was swallowed up by river erosion. The following year the farm was shifted to Kaliganj upazila in Jhenaidah, where the group's natural agriculture campaign succeeded after months of hard work.
By this time, the campaigners had come to learn that farmers involved in natural agriculture required a vibrant marketplace to sell their produce. To address the issue Prakritik Krishi launched its outlet, Prakritik Krishi Bipanan Kendra, on October 24, 2014. Since then, the shop continues to receive orders for more than 25 maunds of fresh vegetables, two hundred litres of milk, 14 maunds of local variety full-grain rice, along with quantities of various kinds of flour, oils from a variety of seeds, organic poultry, fish, spices, honey, every week,
Currently natural-agriculture farmers from 15 districts supply their products to Prakritik Krishi Bipanan Kendra. A year and a half ago, Prakritik Krishi set up Pran Boichitra Khamar, a biodiversity farm built on a two-decimal land in Kautia village under Ghior upazila in Manikganj.
"On average, the organic farming method produces a yield of 75 percent, compared to the 90 percent of produce by conventional agriculture.
"But only non-toxic agriculture does not mean natural agriculture. Integrated farming of vegetables, poultry and fish along with major crops such as paddy and lentils in a non-toxic method are parts of the natural agriculture process that helps minimize loss." Delowar explains.
He further expresses, "Gaining proper knowledge of integrated natural agriculture is crucial. In order to facilitate knowledge sharing among emerging farmers and food safety campaigners, we built the biodiversity farm."
FOREST GUARDS AND RANGERS AWARD Prem Kumar Chettri Sikkim, India
Mr. Prem Kumar Chhetri is a Forest Guard who works for the Department of Forest & Environment, Sikkim, India. Having completed his MS in Zoology from Sikkim University, he served as a Junior Research Fellow at G. B Pant National Institute of Himalayan Environment, Sikkim Regional Centre, Gangtok, before joining his current position. Apart from his assigned duty in the Forest Department, he remains engaged in several biodiversity programmes across the region. As an active researcher, he has published 15 research papers of international repute and continues to receive many accolades to his credit for his unprecedented service as a forester, nature enthusiast, and wildlife photographer, and for being a seasoned taxonomist at such a young age.
His focus lies in environmental education by working on inspiring and motivating the young generation of Sikkim, Himalaya. His position has led him to work in the remotest areas of the East Territorial Division in Sikkim leading him to publish various scientific research work in national & international journals based on the flora and fauna of the region. His work on biodiversity management and conservation in Sikkim for over a decade, is unparalleled, continuing to document many new records of species in the state. Species such as Ophiocordyceps dipterigena are the first to ever be recorded in India, while many new birds such as the Wards Trogon, Solitary Snipe, Ferruginous duck, Brown-headed Gull, Skyes's Warbler, Terek sandpiper, were the first to be recorded in the state of Sikkim.
With a great determination for conservation, he continues to visit various schools, colleges, and villages to raise awareness among the young generation on the importance and conservation of biodiversity. He remains an active member of BAMOS (Butterfly and Moths of Sikkim Nature Conservation Society), and through the NGO he continues to conduct awareness programs in various schools and villages about the butterflies and their importance in the ecosystem. He is also actively engaged in forming the constitution for Biodiversity Management Committees (BMCs) and continues to train BMC members across various sites in Sikkim. His most recent accomplishment includes a book on the Birds of Sikkim that was published due to the efforts led by him and his team at the Department of Forest & Environment, Govt. of Sikkim.
His contributions towards biodiversity management and conservation have been recognized and awarded a letter of appreciation by the Department of Forest, Govt of Sikkim, not only emphasizing that he is one of the budding experts on biodiversity in the region, but also raising the valid concern of the due lack of recognition given to foresters within the department.
Being a great wildlife photographer, his photographs of many species of birds, butterflies, herpetofauna, and plants in their natural environment have been published in numerous books, magazines, and research papers.
He continues to document for the People Biodiversity Register (PBR) for various BMCs of Sikkim Himalaya, providing opportunities for participants to connect with their local ecosystems, in turn helping them understand how individual behaviour possibly impacts our natural environment. These activities continue to encourage young students to take an active role in managing and protecting biodiversity.
He continues to lead by example, as his colleagues in the Forest Department and peer groups remain motivated by his efforts and have started engaging with biodiversity-related engagement beyond their routines. As a member of BAMOS, he has played a key role in organizing The North East Butterfly Meet at Dzongu, North Sikkim, and has led a team of nature enthusiasts and biodiversity researchers on the subject of Migratory Species in Ahmedabad, Gujarat, in February 2020.
FOREST GUARDS AND RANGERS AWARD

Hawladar Azad Kabir
Bangladesh
Mr. Hawladar Azad Kabir works as the Ranger and Officer-in-Charge of Karamjal Crocodile Breeding Center and the Karamjal Batagur Baska Breeding Center.  He also is responsible for the operations at the Eco-Tourism Centre of Chandpai Range of the Eastern Sundarbans under the Bangladesh Forest Department.  
His profound work in the field of crocodiles including, but not limited to rescue operations, captive breeding programmes, rehabilitations and the safe release of crocodiles back into the wild has earned him a much-deserved reputation among the forest department and crocodile experts alike.
 His experience in safely handling crocodiles and other reptiles is of great value concerning the operation and functioning of the Crocodile Breeding Center at Karamjal.
 His inspiring efforts do not stop at crocodiles as he continues to excel at every responsibility including his work for the Critically Endangered Batagur Baska turtles breeding center at Karamjal. 
Under his supervision, there are now over 200 Batagur Baska in the breeding center and every year there has been an increase in hatchlings, which is a sense of great success in any animal conservation project.
Mr. Hawladar Azim Kabir's dedication, knowledge, and expertise see him as an integral part of the Vulture and Dolphin Conservation teams in the region. His understanding of the region of the Sunderbans hasn't gone unnoticed and has been mentioned in several articles across the internet, including the Dhaka Tribune. 
It is due to immense hard work and on-site efforts from forest guards and rangers like Mr. Hawladar Azad Kabir, in tough conditions like the Sunderbans, that animal conservation programs have a chance of seeing success. They remain the unsung heroes of efforts across the globe that are helping rescue the dwindling numbers of the diverse species that this planet remains home to.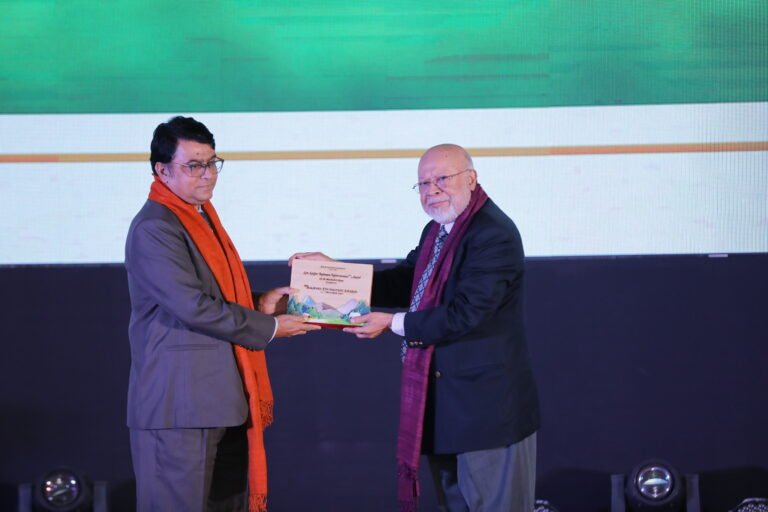 LATE LATIFUR RAHMAN NATURENOMICSTM AWARD

M. Monirul H. Khan
Bangladesh
Dr. M. Monirul H. Khan is a wildlife biologist specializing in research on various aspects of wildlife and biodiversity habitats, particularly those in Bangladesh. He also engages in leading educational discourse around these subjects. Born in Tangail, Bangladesh, in the year 1974, He went on to begin his journey of education at the Model Primary School. He then moved on to study at Bindubashini High School, M.M. Ali College and Jahangirnagar University in Bangladesh, before going on to join the prestigious University of Cambridge in UK, at the age of twenty nine. He was awarded a PhD degree from Cambridge, which was supported by the Commonwealth Scholarship.
Currently, a Professor of Zoology at Jahangirnagar University, Bangladesh, of whom he remains a highly regarded alumni, as he continues to collaborate professionally with many national and international entities. Dr. Khan has received several scholarships and awards, and has gone on to write many scientific articles that remain highly popular in the research sector regarding wildlife. His detailed studies have gone on to become chapters in many books, in turn guiding and providing knowledge for many authors in the field. He has also gone on to write several books with his peers focusing on the research and conservation of the diverse species of wildlife in Bangladesh.
His skill, knowledge and experience in wildlife monitoring, status survey, population estimation, including camera-trap survey and transect survey, understanding of feeding patterns, habitat use, threat assessment and wildlife-human conflict, is a boon for everyone who has had the opportunity to interact, learn and be taught by Mr. Khan
His constant participation in conducting academic, training and awareness programmes, producing extensive data and knowledge regarding wildlife, along with his ability to document through the means of photography has played a highly valuable role in many projects regarding the vast scope of conservation in Bangladesh, where he leads by example.
Some of his major research accolades involve the subjects of, 
Tigers in the mangroves : research and conservation of the tiger in the Sundarbans of Bangladesh
Red book of threatened mammals of Bangladesh 
Red book of threatened fishes of Bangladesh
Red book of threatened amphibians and reptiles of Bangladesh 
Amphibians and reptiles of Bangladesh : a field guide 
Biodiversity of protected areas of Bangladesh
Not only his experience, education and hard work, but most importantly his ability to teach and inspire young generations will hopefully bring a new revolution in conservation and research surrounding wildlife, in Bangladesh, but also its neighbouring countries.
LIFETIME SERVICE AWARD

Dr. Kamaljit Singh Bawa
India
Dr. Kamaljit Singh Bawa is an internationally renowned evolutionary ecologist, conservation Biologist, and the Founder-President & Chair of Ashoka Trust for Research in Ecology and Environment (ATREE).  A distinguished professor of Biology at the University of Massachusetts, Boston, his extensive research in the Himalayas and the Western Ghats has led him to publish more than 200 papers and author and edit more than ten books and special issue journals.
His pioneering contributions to understanding the population biology of tropical forest trees have helped develop new strategies for conservation by exploring synergies between forests and social goals.
Through his work, he has continued to build institutional support to foster conservation and sustainability science, with the establishment of ATREE being at the centre of providing leadership in conservation in India, and was ranked among the top 20 think tanks of the world.
He remains interested in developing new paradigms of conservation that take into account the alleviating of poverty in biodiversity-rich areas through sustainable use of biodiversity. His efforts in creating sustainable livelihoods in the Eastern Himalayas have continued to change perceptions along the intersection of economy, conservation and biology.
For his immense devotion to the field, universities, organizations, and institutions across the world have bestowed upon him their highest awards. Notably,
The Giorgio Ruffolo Fellowship at Harvard University's Kennedy School of Government (2009),
Charles Bullard (twice1972, 2010) and Maria Moor Cabot Fellowships (1973) at Harvard University,
Guggenheim Fellowship (1987),
Pew Scholar in Conservation and the Environment (1992),
The world's first prize in sustainability–the Gunnerus Award in Sustainability Science from the Royal Norwegian Society of Letters and Sciences (2012),
and the international MIDORI Prize in Biodiversity (2014) from the Aeon Foundation in Japan at the United Nations Conference of Parties to the Convention on Biological Diversity.
The Association for Tropical Biology and Conservation elected him as its President and he has received the Distinguished Service Award from the Society for Conservation Biology.
The University of Massachusetts, Boston has honoured him twice: with the Chancellor's Award for distinction in scholarship and the Chancellor's Award for excellence in professional service.
In 2014, the University of Alberta conferred him with an honorary Doctor of Science degree.
His latest honorary doctorate is from Concordia University, Montreal, in June 2019.  
Mr. Bawa is an elected member of the American Academy of Arts and Sciences, the Royal Norwegian Society of Letters and Sciences, The Royal Society of London, and the American Philosophical Society.
He has headed and served numerous scientific panels and currently serves on the governing boards of several national and international organizations, paving the way for leadership in conservation. His second coffee-table book, Himalaya: Mountains of Life, a sequel to Sahyadris: India's Western Ghats  was published in January 2013 and is a virtue for anyone looking to learn more about the region.
REWILDING THE EASTERN HIMALAYAS GRANT

Zeinorin Angkang
Manipur,India
Zeinorin Angkang is the founder of Hill Wild, an organization that works with the indigenous communities of Northeast India to eradicate poverty by elevating the incomes of farmers through entrepreneurship. Hill Wild is committed to championing the cause of the people and amplifying their voices through its proven and tested framework. They offer a complete solution-based model starting from seed provision through the organization's seed bank, financial assistance through their credit linkage scheme, pest intervention through indigenous and natural method experts, as well as marketing and packaging support for farmers. Angkang believes in leadership through compassion. She dreams of spreading indigenous flavours to the world, bettering livelihoods, and sharing traditional stories with a mission to ensure food security among indigenous communities, who can continue to engage with farming to generate better incomes, protect indigenous seeds, and amplify their voices.
A social entrepreneur from Ukhrul district, Manipur, Zeinorin completed her bachelor's degree in physics from Ferguson College, Maharashtra, India in 2013 and an MBA from NIFT, New Delhi, India in 2015 and was a Kofi Annan Changemaker in 2021.
Her notable achievements include:
Aspen fellow 2019 (GP Birla): Selected as one of 20 emerging women leaders in India.
Start-up India: Selected as the first indigenous, community-run start-up to win this award in the state of Manipur, in 2019.
Social welfare award Manipur 2020: The government chooses one social enterprise from all over the state for its exceptional contribution to social change.
Kofi Annan Changemaker, Geneva 2021:
The Kofi Annan Changemakers initiative works to make the voices of young people count by giving them a chance to dialogue with and seek counsel from experienced leaders on issues of deep concern whilst allowing leaders to better understand the preoccupation of young people.
Worked on a Project on "Seed bank' to collect indigenous seeds that are climate resilient in these ever-changing times and train farmers to grow and sell produce to the marketplace while envisioning a life above the poverty line and contributing to the food security of our community in the long run.
Winner of "Women Social Entrepreneurs": Hosted by Western Sydney University & Australia India council 2021.
Vital Voices Fellow 2022: A signature program supporting women visionaries who are shaping the future they wish to see: the perception of what defines a leader, what it takes to become a leader in their way, In partnership with Estee Lauder Emerging Leaders Fund.
Her vast work experience includes:
Founder & amp; CEO: Hill Wild 2017- Present
Hill Wild works with indigenous farmers in North East India where the majority of rural areas still live in poverty. They work with 2000+ small landholder indigenous farmers who suffer from climate change by focusing on climate-resilient indigenous seeds to produce
premium spices, fruits & crops that fetch a fair price for the farmers in the market, and during the off-season, they now grow vegetables that are consumed locally.
Co-Founder: Little North East 2022
Founded together with two other partners, they strive to be one of the world's leading social enterprises offering produce from local communities. They help people create localized products and connect them to a global market where it is appreciated, where direct impact is created and invested back in the ecosystem for transformation. Currently, we touch base with 200 micro-entrepreneurs and 450 artisans spread across North East India.
Co-Founder: Pisgah Estate
Living in a forest in an estate named 'Pisgah estate'. Most of the work done here has the DNA of being one with nature. Zeinorin started having quite a lot of visitors who were friends, families, journalists, adventurers, hikers, and keen foragers. This gave her the idea of building cabins in the jungle which could be availed for a certain fee, creating employment opportunities for the families living nearby. The town also hosts an annual 4-day festival which brings in a lot of tourists from all over the country. This year, Pisgah partnered with 20 families living in and around our vicinity who rented out one extra room each, and we were able to generate a total income of 25,000Rs. To put this into context, each family earned 4-month worth of income in 4 days. Pisgah facilitates and aggregates sustainable tourism and home-stays in Ukhrul Town.
Mentor for STEP Fellowship:
STEP northeast is an NGO founded to democratize quality education and make it accessible to even the remotest villages in North-East India. Unfortunately, many kids in the villages of the Northeast are deprived of quality education by default due to various factors and circumstances. STEP aims to change this status quo by making quality education accessible to these kids in the villages through its three verticals.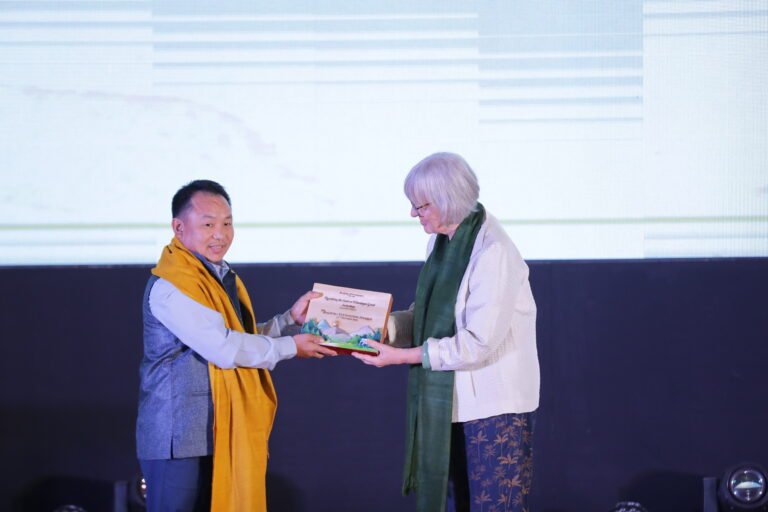 REWILDING THE EASTERN HIMALAYAS GRANT Anoko Mega Arunachal Pradesh, India
Ten years ago, when Anoko Mega first rescued a pair of hog deer fawns from a neighbour, he knew his love for wildlife would eventually turn into conservation action. Hailing from the Idu-Mishmi tribe of the Lower Dibang Valley region in Arunachal Pradesh, Anoko has been paving the way in the conservation of the recently discovered subspecies of the Western Hoolock gibbon, known as the Mishmi Hills Hoolock gibbon. As a member of the State Board for Wildlife, he has been actively involved in wildlife rescues, leading fourteen conservation efforts so far.
Anoko has been part of the Abralow Memorial Multipurpose Society, a local conservation group that works on educating people on the need for environmental protection. Having learned wildlife-filmmaking from the renowned 'Green Hub' in Tezpur, Assam, he has since spent his time documenting the biodiversity of Mehao Wildlife Sanctuary. His films highlight the rampant wild meat trade of Hoolock gibbons, which has helped change the perception of the community towards the hunting and consumption of these primates. "Naively, I too have previously hunted them for meat, but today I learn from my mistakes and continue to spread the word wherever I go", Anoko confesses. There isn't a specific term for conservation in the Idu-Mishi language but their culture forbids the hunting of the Hoolock gibbons. According to folklore, killing, or even mimicking a Hoolock gibbon leads to bad luck; or the 'evil eye to be upon you'.
While superstition works in favour of the Hoolock gibbon in this case, hunting is not the sole threat they face. Mehao Wildlife Sanctuary, the prime habitat of the gibbons is under constant threat due to rapid 'unsustainable development', leading to fragmentation of habitat and populations of the Hillock gibbons. These newly privatized lands put the arboreal species under immense threat of electrocution by overhead power lines that now replace the trees that once existed. The danger of being attacked by dogs continues to loom on land, leaving the gibbon families stranded, with one family being limited to just two trees. The researches on these subspecies are relatively nascent, their populations are unknown and severely threatened, and hence there is an urgent need to protect them.
Generating scientific data on the Hoolock gibbon will be instrumental in implementing site-specific conservation plans. Anoko planned to adopt a community-based approach to sensitize and involve the local tribes in conservation, creating sustainable livelihoods and reducing anthropogenic pressure on gibbon habitats. He continued to interact with the villagers and gathered information about the threats faced by the gibbons, in turn learning about people's attitudes and interactions towards them.
 Anoko and his team often organized nature walks and plantation drives for school children, to better understand the Hoolock gibbons. It then dawned upon him that this could become an eco-tourism venture. "I wanted to create a successful -model and restore a fragmented gibbon spot and set an example for other such areas. We could bring tourists to sight and learn about gibbons in the area, and the money earned would be an incentive for farmers that owned land within the gibbon's habitat. People could also participate in planting trees, which he says will hopefully be used by gibbons for mobility" he says. Anoko's project has the potential to become a long-term sustainable model with high replicability, helping secure and restore gibbon habitats by creating dedicated corridors. Anoko chuckles at being called a conservation hero and does not believe he's doing something extraordinary. "It's everyone's responsibility to initiate conservation efforts that others can follow", he says. As corridors for the gibbons of Mishmi Hills are being gradually rebuilt, Anoko's tireless efforts have mobilized the local people to secure gibbon families and their fragmented habitats.
GREEN GURU AWARD

Kuenzang Dorji
Bhutan
Mr. Kuenzang Dorji is a naturalist at the Nature Study Center of the Ugyen Wangchuck Institute for Conservation and Environmental Research, Department of Forests and Park Services, Royal Government of Bhutan and a PhD student at the University of Calgary in Canada. Prior to this position, he was working as a Park Warden at Jigme Singye Wangchuck National Park and as an instructor and researcher at the Ugyen Wangchuck Institute for Conservation and Environmental Research. Having 21 years of experience of work as a wildlife biologist, academic mastery, and dynamic tutor, he is also a special faculty at Central Washington University, United States, where he continues to co-teach faculty-directed field school programmes. His knack to continue learning and sharing new information often, is a well known trait of his among his co-workers in the field.
When the Royal Government of Bhutan's Department of Forests and Park Services faced a shortage of professionals capable of conducting scientific research and making informed decisions about biodiversity conservation, Then, a very young Kuenzang Dorji dedicated his time and efforts towards learning professional skills that would help conduct wildlife research and increase conservation efforts in the forests of Bhutan.
In the year 2003, Kuenzang's efforts and ability help introduce camera trapping techniques, and it was a first of its time in Bhutan. He trained more than 50 park rangers of two national parks, Bumdeling Wildlife Sanctuary and Jigme Singye Wangchuck National Park on camera trap techniques and he was Bhutan's first biologist to photograph tigers in Bhutan's natural habitat using camera trap methods. 
Some of the notable achievements of Kuenzang's illustrious and impactful carrer involve:
The advancement of new and robust wildlife survey techniques in Bhutan- camera trap exercise
Helping created low-cost life-long learning opportunities for enthusiastic wildlife biologists
By making training workshops more accessible and affordable by improving the knowledge availability within Bhutan itself, in turn reducing the dependency on people and material from outside the country, which in a lot of cases were unaffordable.
In the year 2015, Kuenzang went on to secure funds from World Wildlife Fund and EFN, conducting workshops on the subject of survey techniques for research and conservation of small mammals in protected areas and ramsar sites of Bhutan. Through this grant he went on to train more than hundred field foresters on how they could continue to build on research and knowledge around smaller mammal species in Bhutan. His conservation and research efforts have been pivotal in improving the focus on neglected species, particularly rodents and bats.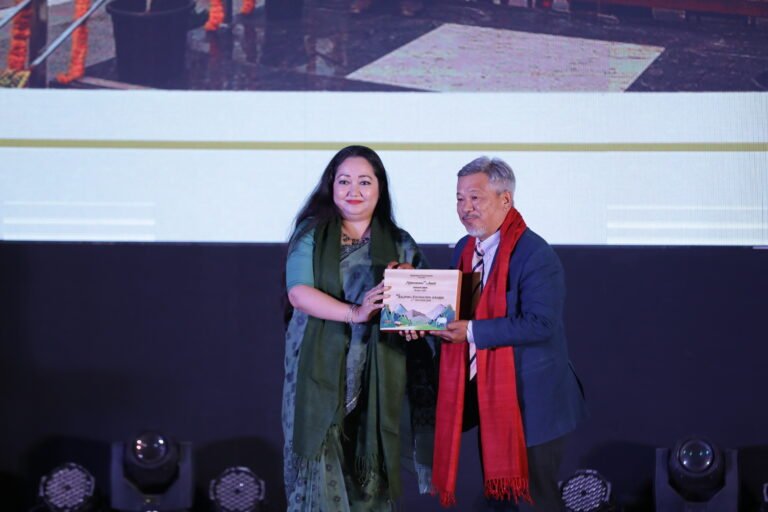 SPECIAL RECOGNITION AWARD

Kamesh Salam
Manipur
Mr. Kamesh Salam is the founder and executive director of South Asia Bamboo Foundation, a former president of the World Bamboo Organization, and it is due to his pioneering efforts in the field of bamboo cultivation, that today the world celebrates September 18th as World Bamboo Day.
Born in the state of Manipur, Mr. Salam has traveled far and wide, right from Bihar, Jharkhand, West Bengal, all the way to Ghana, Timor Leste, Ethiopia, Uganda, and Bhutan, working with organizations and raising the importance of bamboo and its socioeconomic, environmental and cultural potential as a non-wood forest product. Having gone from seeing the World Bamboo Conference being postponed for two years due to lack of funding, to becoming the president of the World Bamboo Organization and being able to host the conference with 600 participants, and to be able to get 'World Bamboo Day' declared and recognized at Thailand, shows that Mr. Salam's work hasn't gone unnoticed and he has paved the way for due recognition of bamboo.
Having amassed more than twenty-five years of work experience ranging from bamboo processing, skill development, capacity building, planning, and being a machinery and development strategies expert, he now uses his expertise at community levels in developing bamboo processing and manufacturing industries. His involvement in the craft industry as the founder of the Crafts Society of Manipur, coupled with his vast knowledge and understanding of bamboo, has allowed him to conduct multiple training programs at various stakeholder levels.
His abilities have led him to hold esteemed positions at the UNDP, UNIDO, INBAR, GIZ, and act as a consultant with the ADB-funded project on bamboo in Bhutan and India. His contributions to the bamboo development programs of India as a Member of the Apex Committee of the National Bamboo Mission of India are significant. He continues to be associated with various policy and planning modules of the Government of India with the Ministry of Environment, Forest, and Climate Change, being a member of the very first Bamboo Development Committee formed in 1999.
Mr. Salam continues to attend and speak at Bamboo Workshops and Seminars around the globe, presenting research on community development issues. His knowledge of bamboo translates in the form of books, papers, journals, and training manuals. He is a recipient of the 'Outstanding Green Activist Award 2018 of India' awarded by the Indian Federation for Green Energy (IFGE).
His work and continued consultation on capacity building, technology induction, monitoring implementation, and developing marketing strategies for existing and new cane and bamboo products based on the needs and availability of local resources for the United Nations Development Programme remain of immense value to the worldwide view of the role and importance of Bamboo in South and South-East Asia.
Nominator: Ranjit Barthakur
SPECIAL RECOGNITION AWARD

Prof. Niaz Ahmed Khan
Bangladesh
Professor Niaz Ahmed Khan is the Pro-Vice-Chancellor of Independent University, Bangladesh (IUB); Former Chairman of the Department of Development Studies, University of Dhaka; Senior Academic Advisor (Honorary) at BRAC Institute of Governance and Development; and Executive Director, Centre for Resources and Development Research. His career reflects a rich blend of academic and practicing development management experiences gained in Bangladesh, Thailand and the United Kingdom. He headed the Bangladesh Office of the world's largest environmental network organization called – International Union for Conservation Nature (IUCN) as Country Representative. His other environment and natural resource management related former positions include: Senior Program Coordinator—Chittagong Hill Tracts, UNDP-Bangladesh; and Forest and Natural Resource Management Specialist (RETA 5900), Asian Development Bank (ADB). On the academic and research side, he held such positions as South Asian Fellow, Queen Elizabeth House, University of Oxford; Research Fellow University of Wales; Professor of Public Administration, University of Chittagong; and Asia Research Fellow, Asian Institute of Technology, Thailand. He has also extensively consulted for such organizations as the World Bank, United Nations, Asian Development Bank, United States Agency for International Development, Swansea Bay Racial Equality Council (Her Majesty's Government of UK), and Government of Bangladesh. 
He has actively participated in the design and implementation of community focused social forestry programmes and led community focused social forestry programmes both in terms of research-theory and practice. He has  contributed to the National and Regional level environmental policy and state decisions. 
His contribution to the promotion of social forestry through extensive research and practice and support to projects have ultimately resulted in revenue generation for local communities. Social forest activities over the last two decades have become a major source of community level income through participatory beneficiary agreement. A substantial amount of money has been distributed through the forest department in partnership with community agencies.