The Balipara Foundation Awards introduced by the Balipara Foundation in 2013, stands as a platform to reward and encourage the efforts of grassroots conservationist and social entrepreneurs working tirelessly towards preserving the rich biodiversity of the Eastern Himalayas.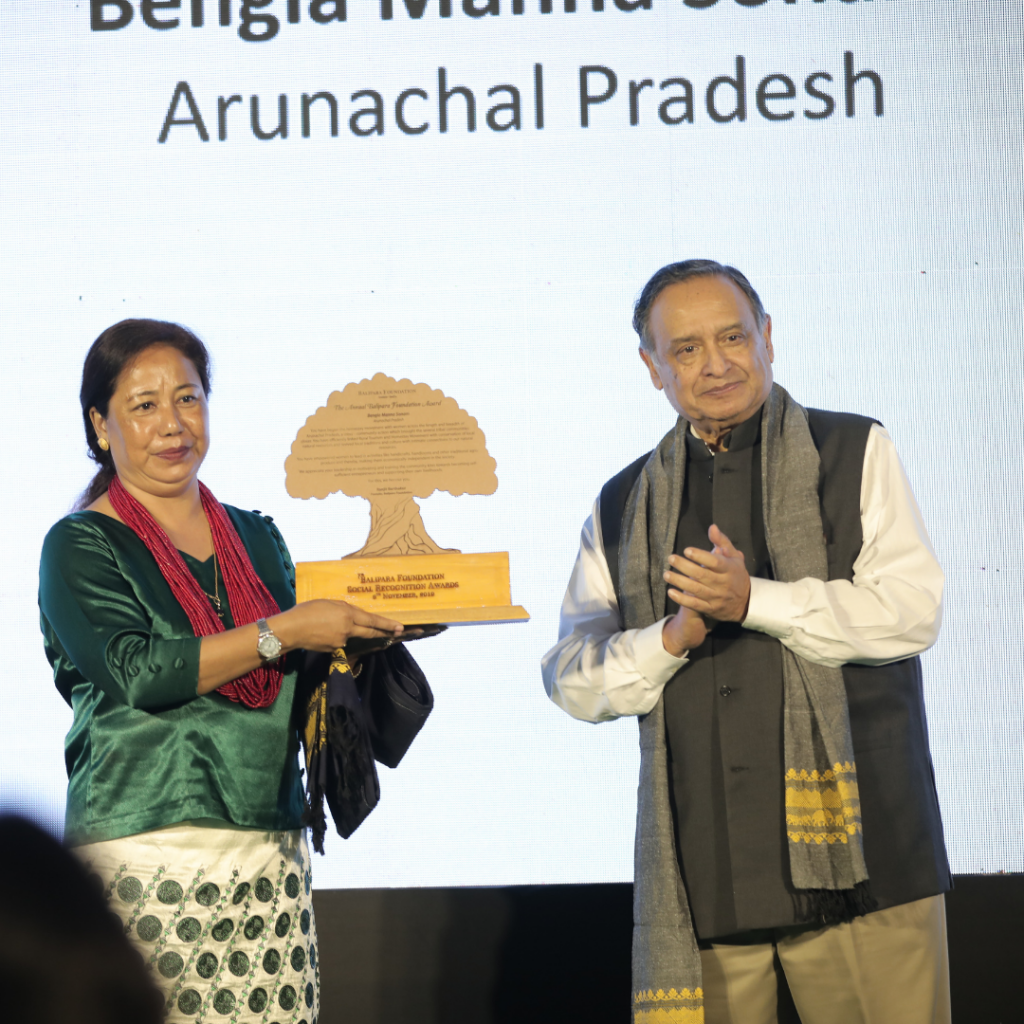 The Annual Balipara Foundation Award
Bengia Manna Sonam, Arunachal Pradesh
Bengia Manna Sonam began the community tourism or homestay movement mainly with women involved across the length and breadth of Arunachal Pradesh, a cross-community action which brought the several tribal communities closer. Being a state blessed with the best natural resource in the country, she efficiently linked Rural Tourism and Homestay movement with conservation of local natural resources and revived local traditions linked to the conservation of the natural resources. Hundreds of women are not only economically independent through this movement, but are also empowered to lead several initiatives, like handicrafts, handlooms and other traditional agro produce which can bring economic value to the family and society. With tremendous efforts and as true community leader, Bengi Manna Sonam has managed to motivate communities through training workshops at the destinations/sites, where conservation is linked to backyard biodiversity and and are followed by market linkages. For this, we honour her.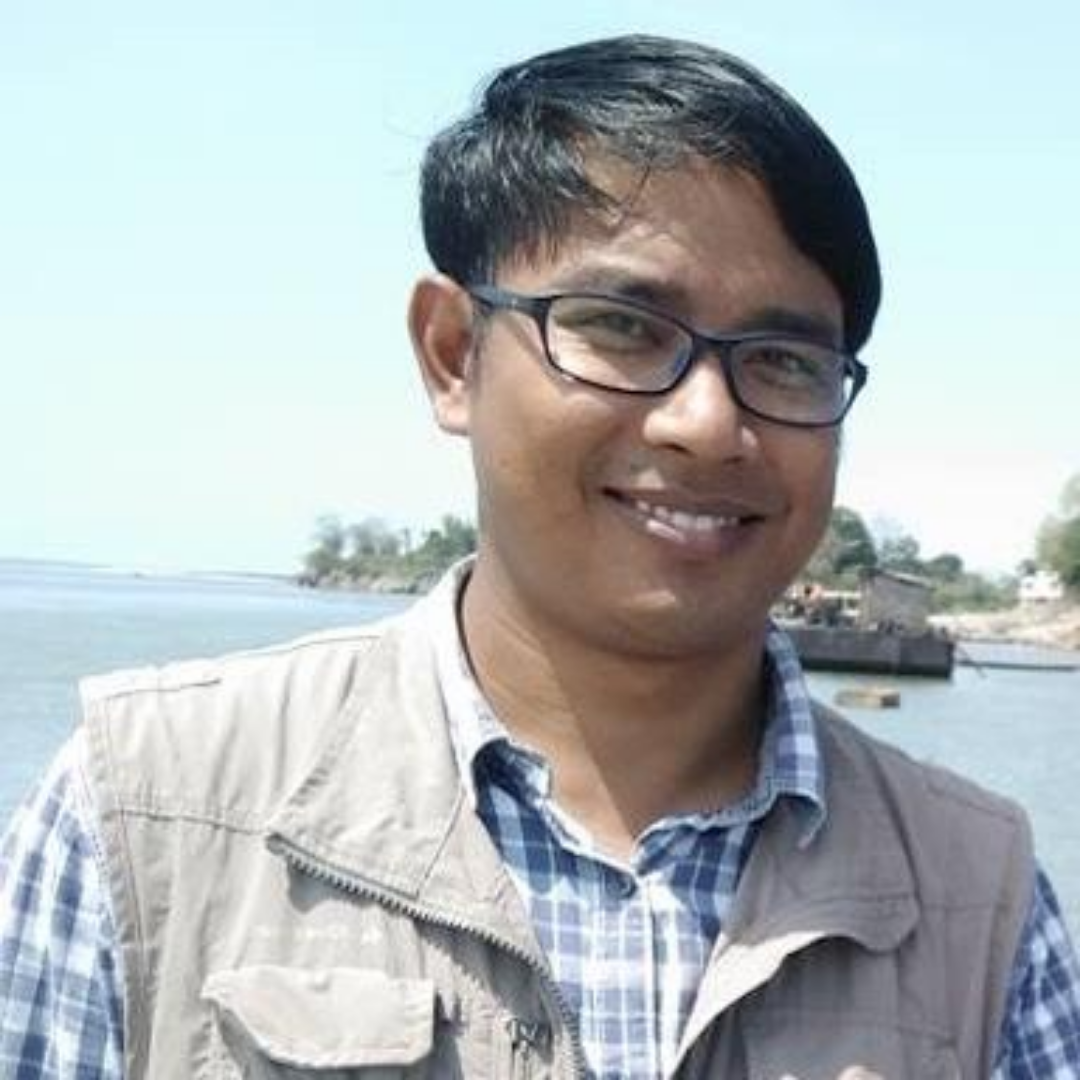 Eastern Himalayan Conservation Award
Rohini Ballave Saikia, IFS Assam
Rohini Ballave Saikia has been a key personality and a true success towards conservation and protection of critically endangered wildlife species in the Kaziranga National Park. During his tenure from 2016 to as on date a total of 142 poachers have been arrested by the forest department or in joint operations by the forest staff and police personnel. The park has seen a significant reduction in the number of instances of entry of poachers inside Kaziranga National Park and subsequent fall in the number of rhinos falling prey to the bullets of poachers. He has spearheaded some of the significant conservation initiatives and under his leadership, several initiatives have been taken to strengthen the anti-poaching infrastructure of the National Park including the construction of numerous bunkers along the periphery of Kaziranga National Park and construction of strategic anti-poaching camps and watchtowers at strategic sites. As a true leader, he has regularly organized training and capacity building activities that have made it possible for the frontline staff to be more prepared to perform their duties and to perform them in a more secure and scientific method. For this, we honour him.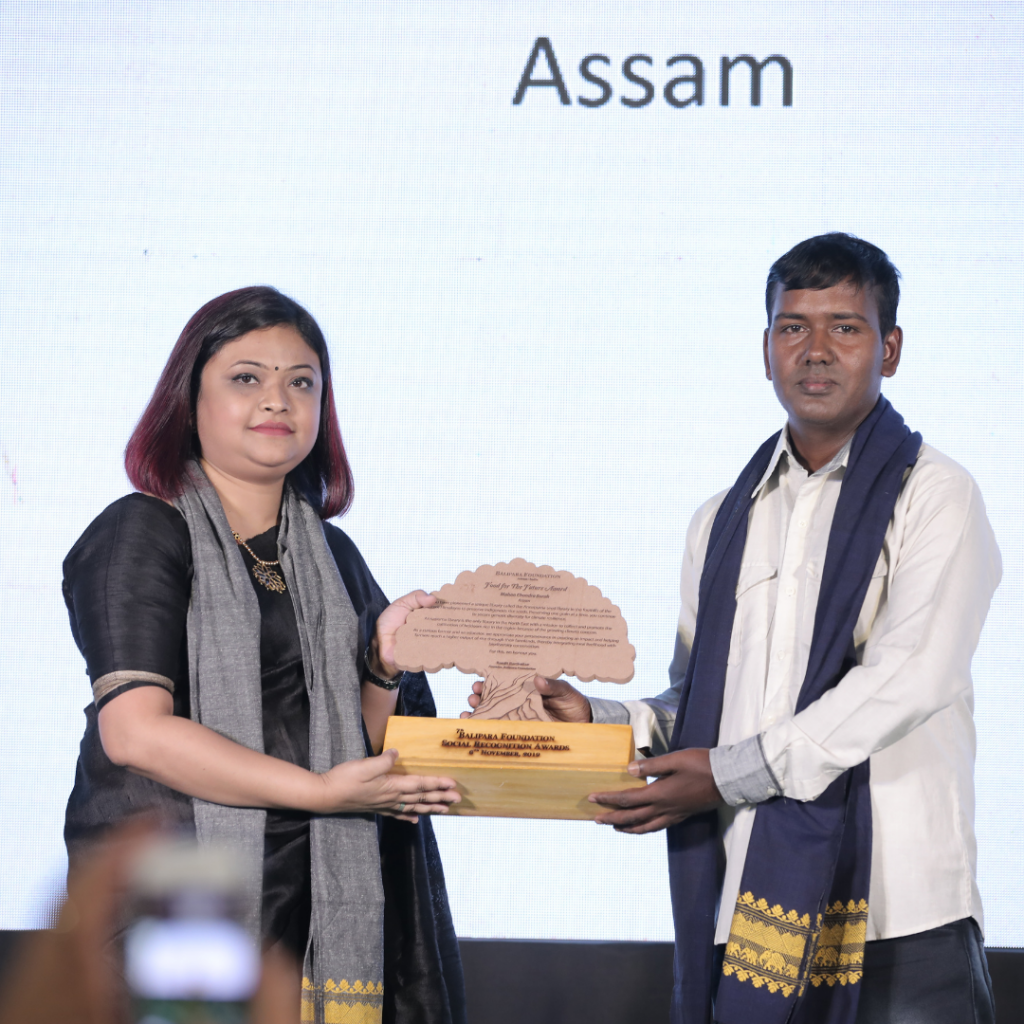 Food For The Future Award
Mahan Chandra Borah, Assam
Mahan Chandra Borah has pioneered a unique library called the Annapurna seed library in the foothills of the Eastern Himalayas to preserve indigenous rice seeds. With the initiative he has taken under his prevue, he has been to preserve the rare indigenous rice varieties, one grain at a time. The objective of the library is to help in securing genetic diversity for climate resilience. Annapurna Seed Library is the only library in North East India to save the indigenous rice seeds. Mahan Chandra Borah's mission is to collect and promote the cultivation of heirloom rice in the region because of the growing climate concern. He started the library 12 years ago from Meleng in Assam. A history graduate turned farmer was curious to find out the local varieties of rice in the nearby villages or hamlets. His subsequent efforts made it possible to build a library which now include different varieties of rice like flood- tolerant, aromatic, black rice, etc. He has been able to create an impact through his awareness camps for students, preservation of rice varieties to help farmers reach a higher output of rice through their farm lands and to contribute through his perseverance of biodiversity conservation. For this, we honour him.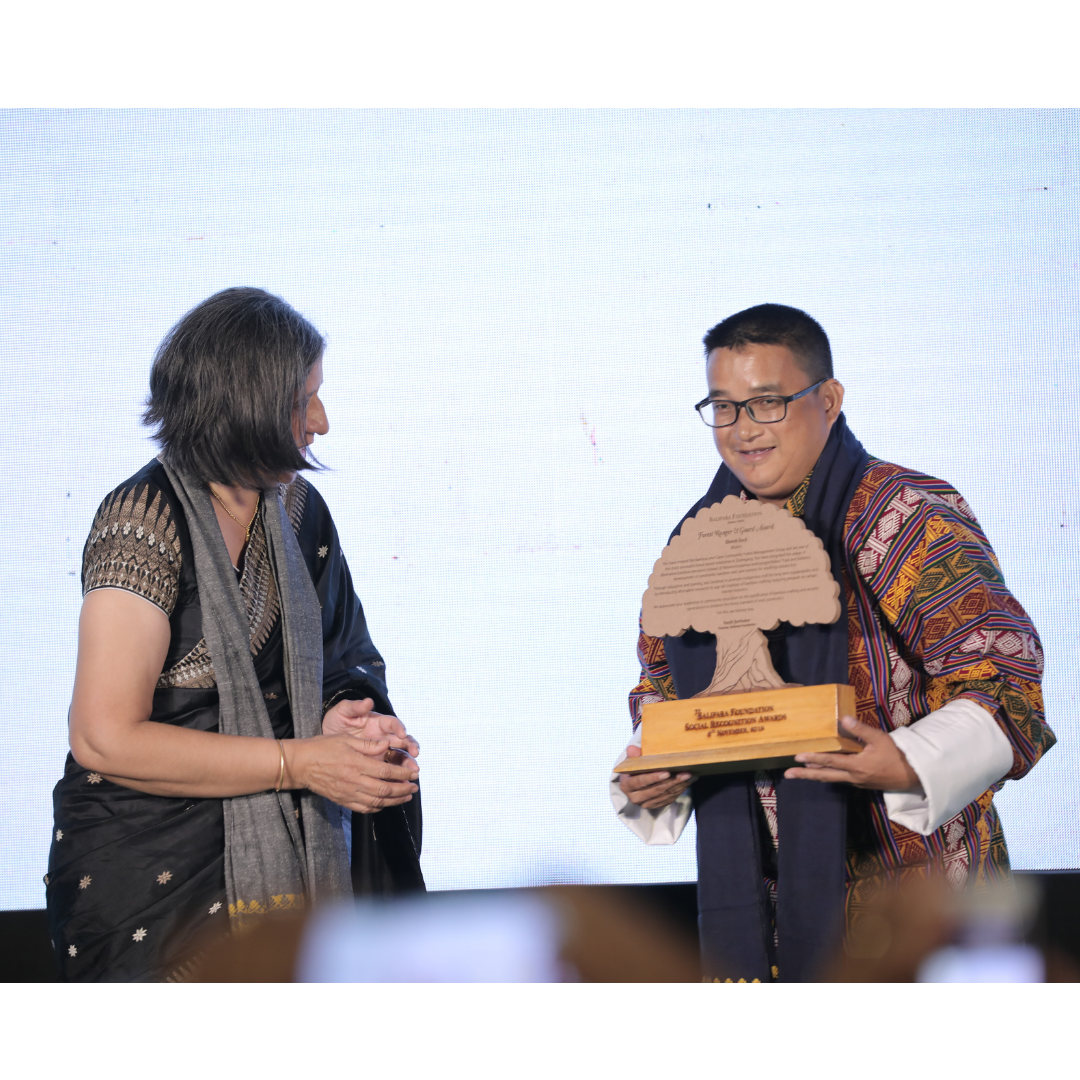 Forest Rangers & Guards Award
Sherab Dorji has been working with the local communities ever since he joined the Department of Forests and Park Services in 2009. He created a Bamboo and Cane Community Forest Management Group which has been one of the most successful forest-based enterprise in Zhemgang. He not only was able to set up an enterprise but could also mobilize communities to manage seedlings of cane and bamboo, look into quality production, provide proper training to the people with regard to market chain supplies and forest management. With his utmost leadership quality that resides within him, Sherab Dorji envisions having sustained resources harnessed with the idea of an income generation. The conservation and sustainable management of the limited resources is being prioritized and the stewardship is being emphasized. For this, we honour him.
Dr. Sherub is a leading naturalist in Bhutan, with a special interest in birds. He heads the Center for Conservation at the Ugyen Wangchuck Institute for Conservation & Environmental Research. He has been instrumental in the assessment of bird diversity in all the protected areas in the country. He has added 30 records in the list of Birds of Bhutan. Currently, he is involved in conducting a research to understand the "bird migration systems in the Eastern Himalayas" working on numerous focal species such as the Himalayan Griffon, Black-necked Crane, Snow Pigeon, translocation experiment in Indian House Crow and livestock migration in Bhutan. Dr. Sherub is Bhutan's first person who studied about the birds since his college education back in 1992. Since then he has continuously pursued his interest in Birding and became Bhutan's first ornithologist. He has been recording natural sounds (bird songs) and has produced three audio editions of the bird songs of Bhutan. The third edition has songs from nearly 400 species which were circulated to all the schools in Bhutan aiming that school children learn about birds by their songs. For this, we honour him.
An ardent nature lover and the President of the Koomtai Tea Estate, 92 year old Sagar Mehta is still going strong, 65 years since he first began working with tea in 1954, though today, he is a nature and community conservationist first, transforming rural agriculture through interdependency. A true radical, Sagar Mehta believes in the power of restorative agriculture, introducing organic agroforestry and healthy water practices to regenerate water bodies – benefiting not just people, but local species. We salute his leadership skills in mobilizing communities to protect forests, plant millions of bushes and restore water bodies: action worth millions. He is a true warrior for community conservation, braving weather and climate challenges to deliver profit to people and planet through his unique perspective of being socially impactful, economically relevant and environmentally sustainable. For this, we honour him.
Moirangthem Loiya Ngamba, Manipur
Moirangthem Loiya Ngamba is an inspiration who is responsible for the increased green cover in the Punshilok hill in the Langol Hill Range, close to Manipur's capital city Imphal. Through Wildlife and Habitat Protection Society (WAHPS), he has been actively engaged in conserving the rich natural resources of the region. In a little over a decade, Punshilok has transformed from a dry, barren hill into a verdant forest teeming with wildlife. And this has happened due to the tireless efforts of Moirangthem Loiya Ngamba and his team that was determined to restore the ecological balance that originally existed in the region. To ensure that the saplings were carefully nurtured and protected, Moirangthem decided to make Punshilok his home. He built a small hut for himself and lived on the hill, all alone, for the next six years. Under his careful attention, lush green vegetation spread over the land, breathing life into it. He has been a harbinger of change, setting the best example for the current and coming generations all over the world. For this, we honour him.
Kürütsechu Self Help Group, Nagaland
The formation of the Kürütsechu Self Help Group has brought women of Meluri village collectively in preserving a heritage practice passed on through generational transmission in cotton cultivation which was on the decline in their society in 2013. Rather than import cotton, the SHG members took the collective decision to engage traditional practices and sustain the rural economy. The cultivation of cotton is grown in rice fields which are left to fallow therefore, with the least impact on the environment that requires no slash and burning of fertile and forested areas. It empowers women members financially through collective strength in numbers while sustaining rural futures. The Self-Help Group has brought women of Meluri village together in preserving a heritage practice passed on through generations in cotton cultivation. Rather than importing cotton, the members took the collective decision to engage traditional practices and sustain the rural economy. Their collective actions and initiatives towards restoring and reviving a cultural product and, in the process, financially empowering these communities thereby has lead to a sustainable rural future through the principle of Naturenomics™. For this, we honour them.
Special Recognition Award
Dr. Zabed Hossain, Bangladesh
Dr. Zabed Hossain is a Professor at the University of Dhaka, Bangladesh at the Department of Botany -researching and teaching in the area of Plant ecology, Molecular ecology and Environmental biology.
With an extensive research entailing plant-microbe interactions, abiotic stresses (e.g. arsenic, salinity and drought) on plants and its adaptation mechanisms – Dr. Zabed Hossain has been a true leader in allowing the society at large to understand the varying dynamics of theory and ground realities to touch base at the same time. Because of academicians like Dr. Hossain, it has been possible for onsite workers and implementational policies to be able to execute and envision a healthy ecology. Dr. Hossain's further accomplishments include engaging in research studies and analyzing ecological relationships between plant and soil microbial communities in grasslands with reference to their structural and functional linkages. For this, we honour him.
Special Recognition Award
Bilinso Syiemlieh: Kong, Meghalaya
Born 1953, Kong has been working in the forest since her childhood. She has been active in collecting wild ornamental plants from the forest and sells door to door at homes in her village in Jakrem, South west Khasi hills. Kong has explored the forests of the Eastern Himalayas for over 60 years now. As a naturalist, she has been learning about mushrooms while roaming in the forests. She has been active in collecting wild ornamental plants from the forest and sells door to door at homes in her village in Jakrem, South west Khasi hills. Along with other women from her community, she collect mushrooms, experiment and differentiate between edible and non- edible poisonous mushrooms in her own way. She encourages other women in her community to secure food and livelihood from the forest. For this, we honour her.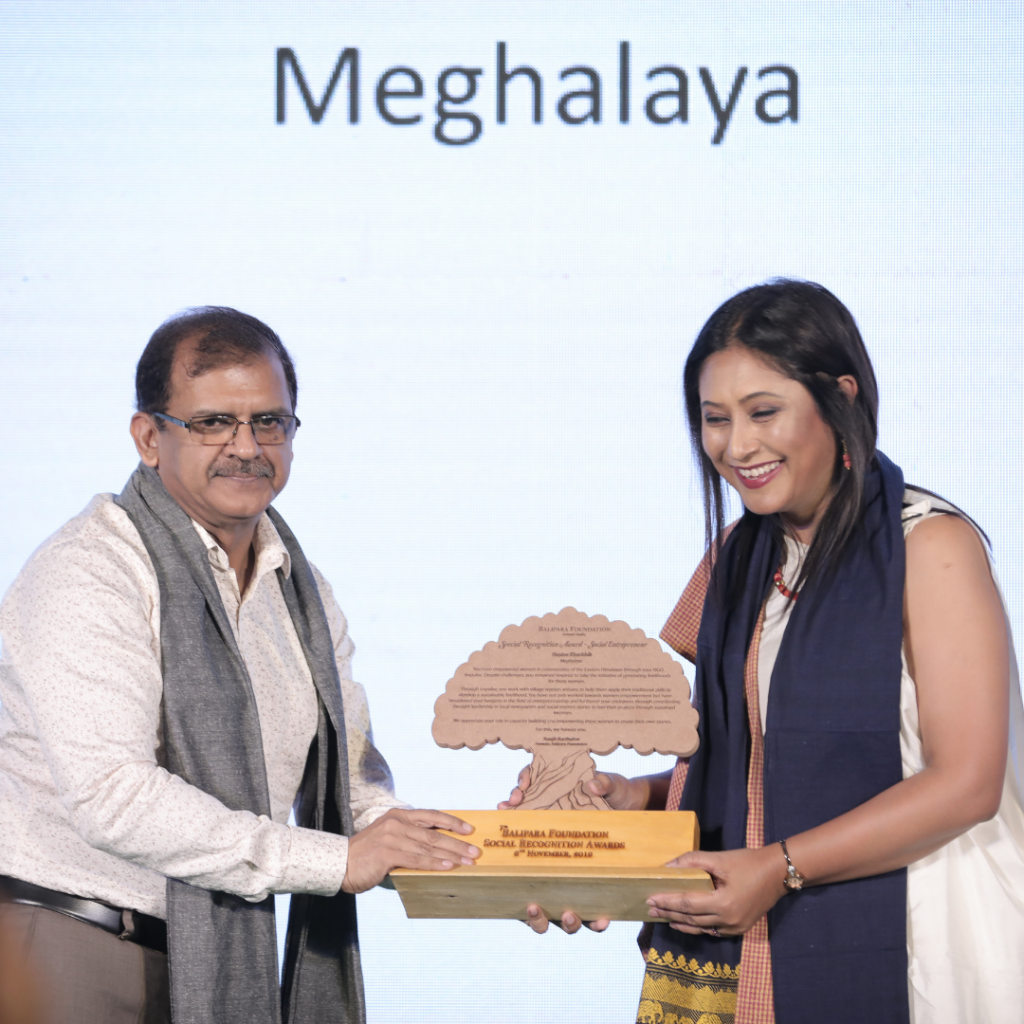 Special Recognition Award
Hasina Kharbhih, Meghalaya
Hasina Kharbhih grew up in Shillong and has always been in the league of making a change by allowing herself to never give up on her dreams to be able to give back to the communities in and around, thus becoming the founder of Impulse NGO. Even without an ounce of funding, the group which she led forward had the zeal in them to take the initiative of generating livelihoods for communities such as those of Syntein village, East Khasi Hills District of Meghalaya. They started working with village women artisans to help them apply their traditional skills to develop a sustainable livelihood. Through Impulse she works with village women artisans to help them apply their traditional skills to develop a sustainable livelihood. She has not only worked towards women empowerment but has also broadened the horizons in the field of entrepreneurship and furthered her endeavors through contributing thought leadership in local newspapers and social interest stories to fuel projects through sustained incomes. The initiative that has been taken by Impulse NGO is one of its kind in the North Eastern region of India. For this, we honour her.
Special Recognition Award
Tanzema Elephant Friendly Village, Bhutan
The efforts and environmental stewardship of Tanzema Elephant Friendly Village, Bhutan has demonstrated living in harmony with nature and proven that nature and humans are interdependent. The village has constructed electric fencing to mitigate human elephant conflict and continues to carry forward traditional conservation and farming practices. Their commitment has accorded the title of Elephant Friendly village in the heart of the Eastern Himalayas and the guardians of the Gentle Giants. Their innovation and creativity in protecting the Park's biological diversity in parallel to fostering rural livelihood through agriculture and promoting the tourism in the region is remarkable. For this, we honour them.
Special Recognition Award
Biswendu Bhattacharjee, Tripura
Biswendu Bhattacharjee is currently a Correspondent for the Times of India and also a contributor to Asia's premier fortnightly on politics of environment and development assisted by the Centre for Science and Environment called Down to Earth. He has spearheaded as a leaderand has authored two highly acclaimed informative book on Climate and Nature of Tripura, five textbooks of Environmental Science (Paribesh Bijygan for Class VI to Class X) for school students & Teachers Manual during 2004 and 2005, published by Tripura Board of Secondary Education, Agartala and is one of the Editors – Biodiversity Resources of Northeast; Concept Publication, New Delhi. He is heading one of the leading NGO of Tripura – Association for Research on People And Nature (ARPAN), an assemblage of professionals and academicians. Acknowledging Mr. Bhattacharjee's work would be imperative to understand the dynamics between journalism, education and environmental activism. His contributions are encouraging and enlightening to journalists all over the country and the world, therefore acting as a leading example for future changemakers. For this, we honour him.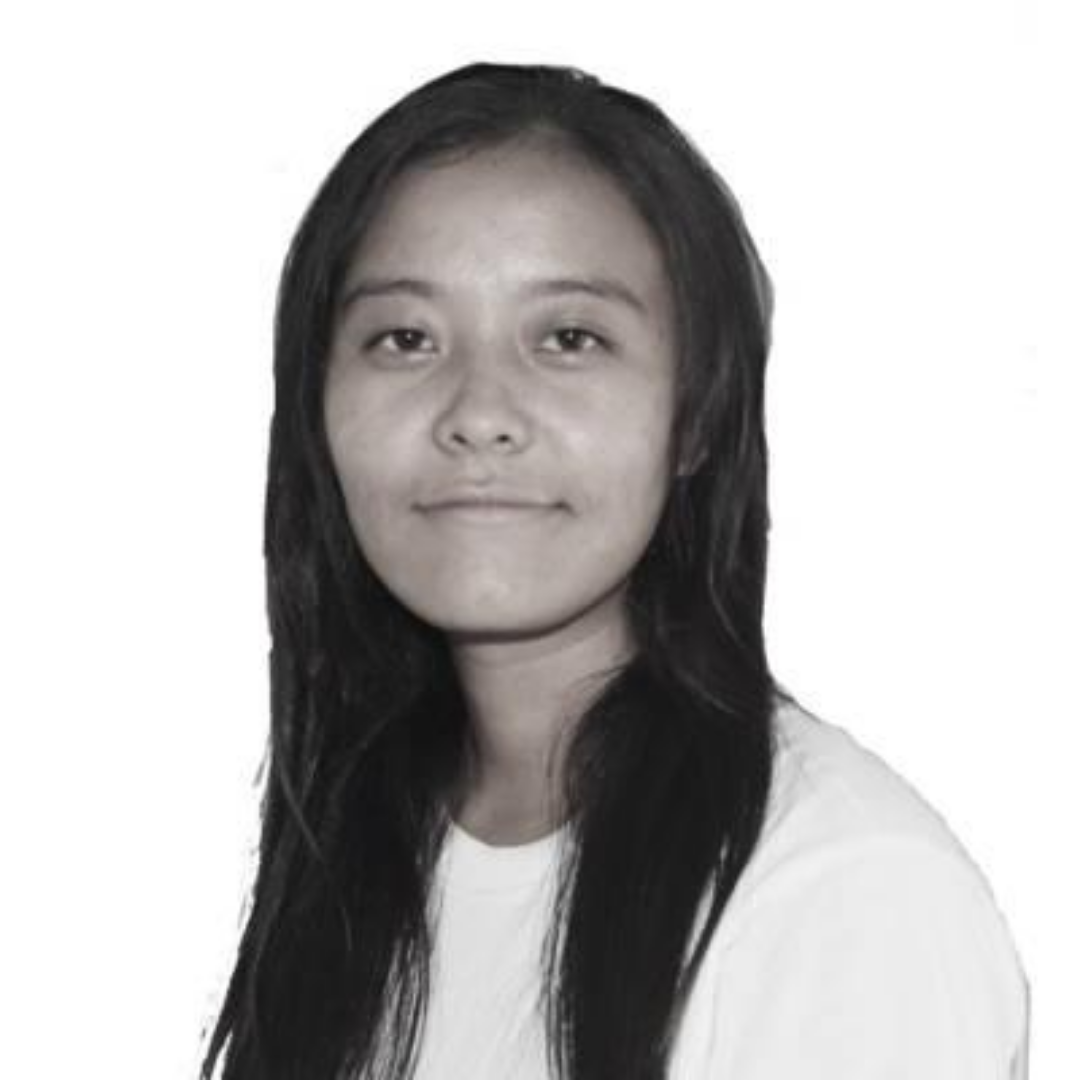 As a girl child who has been brought up in rural Nepal, 24- year-old Ganga Limbu's first accomplishment in the entire region was to complete higher education. As KTKBELT's youngest program officer in the outdoor education program, she is teaching and mentoring 6th to 8th graders to become conservation leaders, guiding them in how to tell their own stories. Her efforts were profiled by CNN in the year 2019. Ganga has also been one of the leaders of educating young kids about conservation topics and is training the youth to document the knowledge and plant diversity in their communities as part of the Vertical University project. She embarked on a journey to make 75+ videos, archiving this knowledge for future generations in the form of an 'Indigenous Knowledge Portal' which Ganga now leads. With each video, her skills get better. With a dream to build a library of thousands of such videos, Ganga envisions to design a video storage house that illustrates the collective power of the place-based knowledge system. For this, we honour her.